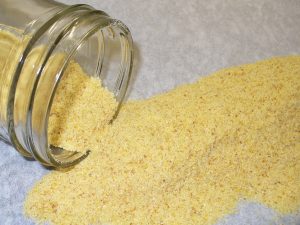 If you haven't tried drying your own corn, I highly recommend that you give it a dry. You can grind dried corn into cornmeal that you can use to make this cornbread. The flavor of home-ground cornmeal is incomparable to that from a purchased box. Although cornmeal (as well as grits and polenta) is made from starchy 'dent' or 'flint' corn (also called field corn or Indian corn in old texts), I have dried and ground sweet corn to make fabulous cornbread. If you roast the corn before drying, this also creates a delicious cornbread. Of course, if you grow or have access to field corn, by all means use this option. But in my world, any corn will do. And I do love corn.
Basic cornbread recipe
Ingredients
2 tablespoons soft butter, for greasing the baking pan
1-1/4 cup dried corn, ground fine into cornmeal
3/4 cup all-purpose flour
1 to 4 tablespoons sugar, honey or other sweetener, or to taste
2-1/2 teaspoons baking powder
1/2 teaspoon salt
1 large egg
2 tablespoons melted butter, for the batter
3/4 cup yogurt plus 1/2 cup water or 1 1/4 cups buttermilk, or liquid as needed
Ingredient additions and variations
Add 4 to 6 slices of diced bacon, cooked until crisp (substitute bacon fat for some or all of the butter in the recipe)
Add 1 cup fresh or frozen corn, rehydrated
Add 3/4 cup shredded medium cheddar cheese
Add 1/4 cup drained and diced pickled jalapeno peppers (or minced fresh, stemmed and seeded chilies)
Directions
Preheat the oven to 400°F. Generously butter an 8-inch square or 9-inch round baking or cake pan. Cast iron or clay is preferred. (For crisp crust, place the buttered pan in the oven until pan is hot and butter is melted, while you prepare the batter. Then pour the batter into the hot buttered pan.)
In a large bowl, whisk together the cornmeal, flour, granulated sugar or sweetener (if using), baking powder and salt.
In a medium bowl, whisk together the egg, melted butter, yogurt or buttermilk (or plain water), and honey or liquid sweetener (if using). Stir liquid mixture into the cornmeal mixture. Before completely blended, add one or two (or all!) of the ingredient variations. Stir batter just until dry and liquid ingredients are combined. The batter should be thick, but flow if poured into the pan. If you have to scoop it out, it's too thick; add more liquid or water to thin the batter as needed.
Pour batter into the buttered (cold or hot) pan. Bake at 400 °F for 20-25 minutes, or until a toothpick inserted into the center comes out clean. Serve warm.
For more ideas for preserving corn and many other types of foods, with over 300 recipes, get the book The Home Preserving Bible by Carole Cancler. Find food preservation tools and equipment on the Amazon marketplace. You can quickly find what you need for any food preservation method: canning, drying, fermenting, pickling, curing, freezing, or sealing foods.