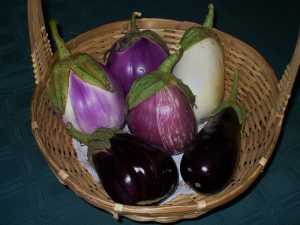 In this unusual pickle recipe, eggplant is seasoned with Italian herbs, spices, olive oil, and vinegar. Eggplant makes a delicious vegetable pickle to serve with any meal. Eggplant is popular all around the Mediterranean and across Asia. I think of eggplant like the potato; it is bland but soaks up other flavors deliciously.
Italian-style Pickled Eggplant
Makes about 3 to 4 cups pickled vegetables
Ingredients:
2 pounds eggplant
2 tablespoons kosher or sea salt
1 cups water
½ cup white wine vinegar
¼ cup olive oil
1 tablespoon minced garlic (about 3 medium cloves)
1 teaspoon salt
½ teaspoon dried oregano (or 1 ½ teaspoons fresh)
½ teaspoon dried red pepper flakes
Directions:
Remove the stem and blossom ends from the eggplant. Cut eggplant into half-inch slices, and then cut each slice into half-inch sticks. In a large mixing bowl, toss eggplant with the kosher or sea salt and let stand for 15 to 20 minutes.
Place eggplant on a rack over boiling water, cover, and steam for 1 to 3 minutes, or until slightly tender but still quite firm. Pat eggplant dry with paper or cloth towels. Transfer eggplant to a sterilized, 1-quart glass jar.
Meanwhile, place the water, vinegar, olive oil, garlic, salt, oregano, and pepper flakes in a saucepan. Bring to a boil, reduce heat, and simmer 10 minutes.
Pour hot dressing over eggplant in the jar. Cool to room temperature. Cover and refrigerate up to 1 month.
For more information about pickling other vegetables, as well as fruits and fish, get the book The Home Preserving Bible by Carole Cancler, available from booksellers everywhere..