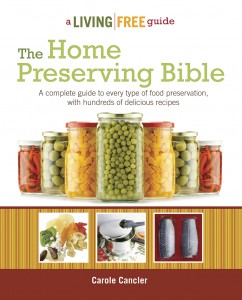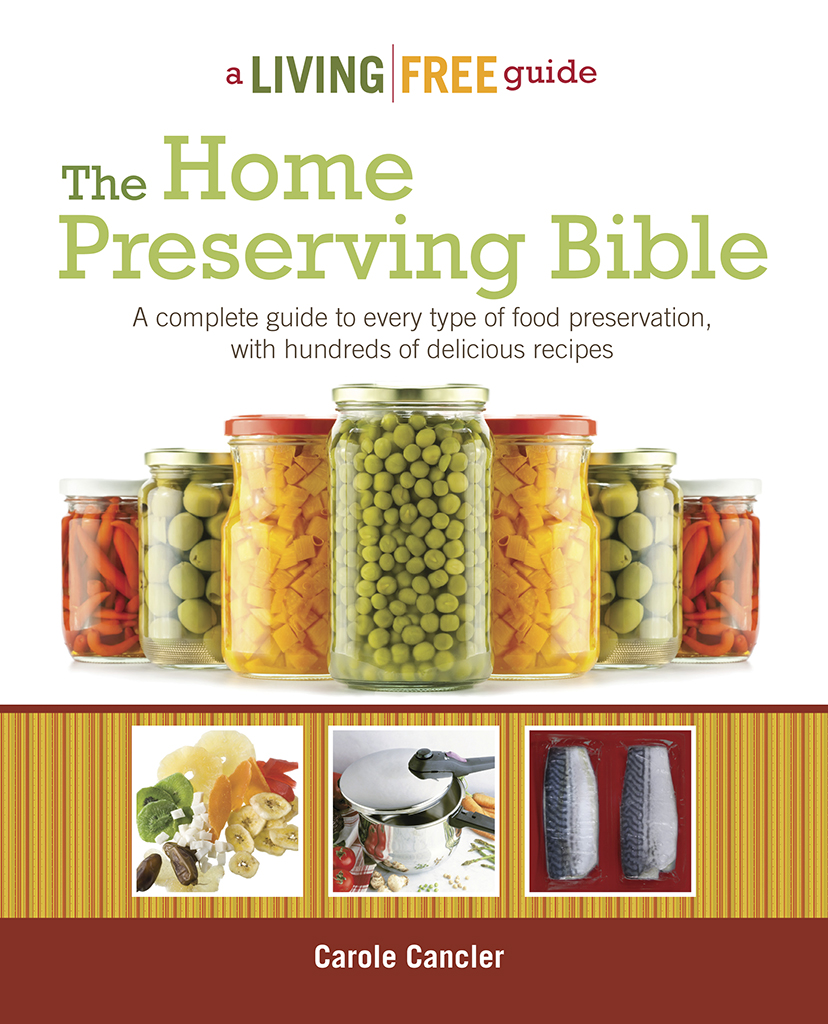 The Home Preserving Bible: A Living Free Guide (Paperback)
By Carole Cancler (About the Author)
Publisher: Alpha Books/Penguin Group (USA), New York, 2012
Why This Book
In the past, people preserved food because they had to—unlike today, they lacked a year-round supply of fresh food and mechanical refrigeration. In times of pestilence, war, famine, tsunamis, and earthquakes, people simply wanted to make sure they had some food "put by." They figured out what worked, even before they knew how or why it did. They preserved food mostly by trial and error. Yet the diversity and cleverness of the methods they used is astonishing. I think it's time we revisited some of their methods.
The Home Preserving Bible summarizes the ways in which people have been preserving food for thousands of years. They packed it in salt. They spiced it and dried it. In cold climates, they let it freeze. It hot climates, they buried it and let it ferment. They stored it in animal stomachs and hides. They used every bit of it, beasts from nose to tail and plants from fruit to vine.
A few of the techniques might surprise you. Cultures throughout western and central Asia dry eggplant routinely; it is easy to do and has many delicious uses. The French preserved meat as confit, but so did the Maori in New Zealand. Hawaiians buried and fermented food in their tropical climate, and Native American cultures were making a kind of meat jerky called pemmican—both long before Europeans came exploring. Fermenting and pickling have been used by everyone everywhere for eons, using vinegar or lemon juice, as well as pomegranate juice, whey, salt with oil, miso, and soy sauce.
I hope you find the information interesting and useful. Above all, enjoy good health, food security, and freedom.
About The Book
The Home Preserving Bible is a practical guide that describes the techniques for eight different methods to preserve foods and provides over 300 recipes. It is the most comprehensive book about food preservation among popular canning and preserving books of today. Canning, freezing, and drying foods are the most common methods for preserving foods at home today. However, other methods may be easier and less expensive to do at home.
Part 1 describes the techniques for canning, freezing, drying, fermenting, pickling, curing, sealing, and cellaring all types of foods. For each method, The Home Preserving Bible provides the latest information on procedures, equipment, and safety issues, giving the reader a range of preservation options, whether she likes the do-it-yourself approach or is interested in the latest in modern technology.
Part 2 features over 300 recipes, including many that are simple to prepare. In some cases, they feature common, everyday foods in uncommon and tasty recipes from cultures around the world. There are treats like salty Hawaiian dried fruit (known as crack seed), Thai-style beef jerky, Haitian "pikliz" salad, and Mexican barbecue sauce. There are also plenty of delicious recipes for preserving everyday foods such as yeasted breads, yogurt and fresh cheese, pickles of all kinds, sauerkraut and other salted foods, tomato products, jam and jellies, sauces and relishes, cider and wine, cured bacon, duck prosciutto, smoked salmon, and more. In the canning section, the recipes are scaled for small, medium, and large batches. Each recipe was carefully chosen to demonstrate one or more of the essential techniques in Part 1.
Media Mentions
Order online:
Order online:
Available in Seattle at: