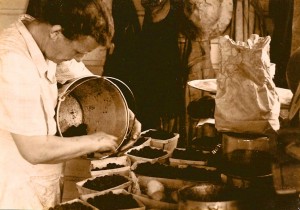 Home Preserving Bible author Carole Cancler has enjoyed a lifelong love affair with cooking. Her mother and Slovenian grandmother (pictured on the right) instilled in her a love of good food. In 1990, she began traveling internationally, most often to attend cooking schools, explore food markets, and taste the cuisines of the places she visits. She has traveled by jet, train and ship to over 20 countries on four continents, including Portugal, Italy, Croatia, Turkey, Japan, and Thailand. Still on her list of places to see (but not limited to!) are India, Greece, Argentina, and Tahiti. She loves studying about the anthropology of food—particularly how indigenous foods have traveled and been integrated throughout the world.
A Seattle native, Carole holds a Bachelor of Science Degree in Food Science and Nutrition from the University of Washington. She also studied at several schools in France, including Le Cordon Bleu in Paris. Chef Carole owned and operated Private Chef Natural Gourmet in Seattle, Washington for 14 years. Her company specialized in custom frozen gourmet meals. Prior to that, Carole spent 11 years at Microsoft as a software engineer and program manager. Currently, she focuses on business and technology consulting for companies in a variety of industries, including construction, entertainment, food & beverage, health & fitness, and non-profits. For fun, she teaches cooking classes and volunteers at local farmers markets.
Her first book published in September 2012:
The Home Preserving Bible by Carole Cancler (Author), New York: Alpha Books, 2012. Paperback. ISBN-13: 9781615641925. Available locally at Elliott Bay Book Company in Seattle, and Third Place Books in Lake Forest Park, as well as Amazon, and other booksellers everywhere.
Why this book? As Carole states: "I jumped at the chance to write The Home Preserving Bible for a whole bunch of reasons: a passion for food history, thirst for knowledge, concern about our food system today, and desire to collect as much information about the many different food preservation methods–historical and current–in one place."
Join Carole's Food Preservation Adventure
Read free articles on this website about food preservation methods.
Download new recipes on this website not found in the book.
Find answers to freqently asked questions in the FAQ about food preservation methods.
Contact us if you have a question, comment, or want to share your story about food preserving, food safety, preserving equipment, or any other food preservation topic.
Buy The Home Preserving Bible, available from booksellers everywhere.
Ask for The Home Preserving Bible at your local library.
Find more of Carole's recipes and food writing on this site using the menu links above, as well as the following:
Carole also owns Caprine Consulting, a business and technology consulting company. Visit the website for more information about Carole's business pursuits.