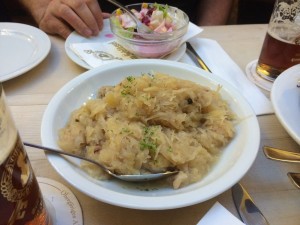 If you are looking for more ways to enjoy sauerkraut and kimchi, try the following recipes from different cultures around the world. There are many types of salt-fermented cabbage, including sauerkraut in Germany, kimchi in Korea, and curtido in El Salvador.
Apple Sauerkraut Slaw
Sauerkraut dresses up Cole slaw turning it into a vibrant side dish. Serve as a salad to accompany roast meats, or as a topping for burgers or sandwiches. If you make your own sauerkraut, make one with red cabbage and apple to use in this salad.
Makes about 6 servings
Ingredients:
2 large apples, shredded
½ medium red onion, quartered and sliced thinly
2 cups sauerkraut, rinsed and drained
2 cups shredded fresh cabbage
½ cup mayonnaise
¼ cup vinegar
2 tablespoons sugar
Directions:
Toss together apples, onion, sauerkraut, and cabbage.
Whisk together mayonnaise, vinegar, and sugar.
Pour dressing over vegetables and toss until well combined.
Sweet and Sour Sauerkraut
This recipe is popular even with those who claim they do not like sauerkraut. Serve this side dish with grilled Polish Kielbasa sausage, braised pork loin, or even roast chicken, along with boiled or roasted potatoes, and salad or Cole slaw.
Makes about 4 servings
Ingredients:
3 tablespoons vegetable oil
1 large onion, halved lengthwise and thinly sliced crosswise (about 2 cups)
2 large garlic cloves, finely chopped
½ teaspoon ground cumin
¼ teaspoon ground allspice
1 (28-ounce) can whole tomatoes in juice
1/2 cup packed dark brown sugar
1½ teaspoons salt, or to taste
¼ teaspoon black pepper, or to taste
1 quart sauerkraut, drained and rinsed well
Directions:
Heat the oil in a 4-quart saucepan over moderately low heat. Cook onion and garlic, stirring occasionally, about 30 minutes or until golden brown.
Increase heat to high. Add cumin, allspice, tomatoes (including juice), and brown sugar. Bring to a simmer, stirring occasionally and breaking up tomatoes.
Stir in sauerkraut and bring to a boil. Reduce heat to a simmer. Stir occasionally and cook about 30 minutes or until most of the liquid is absorbed.
Taste and season with salt and pepper and additional spices.
Istrian Sausage and Bean Soup (Jota)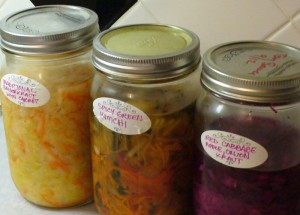 Jota is a popular soup in Northeastern Italy, Slovenia, and Croatia. The ingredients vary as you move down the Adriatic Coast.
Makes 4 to 6 servings, recipe may be doubled and freezes well
Ingredients:
2 slices (2 ounces) thick bacon, diced
1 medium onion, chopped (about 1 cup)
2 garlic cloves, minced
1 bay leaf
1 cup dry cranberry, pinto, or white beans, soaked overnight and drained
3 cups water
1/2 pound kielbasa or other smoked sausage, sliced
1 cup drained and rinsed sauerkraut
1 tablespoon paprika
1 teaspoon salt, or to taste
2-3 cups cooked rice or soft polenta for serving
"Pestat": Mix together 1 tablespoon each chopped onion, garlic, and herbs (e.g. parsley or rosemary)
Directions:
Place diced bacon In a 4-quart saucepan over medium heat. When the bacon has rendered some of its fat, add the onion, garlic, and bay leaf. Cook 3-5 minutes, or until onions soften.
Add beans and water. Bring to a boil over high heat, reduce to a simmer, and cook gently for 30 minutes, or until beans are beginning to feel tender to the bite.
Add sausage, sauerkraut, paprika, and salt. Add more water if needed to cover ingredients. Return to a simmer and cook for 1 hour, or until beans are very tender.
Serve soup over polenta or rice, garnished with pestat.
Jota with Potato (variation): omit bacon, sausage, and polenta. Skip step 1. In step 2, add 1 smoked ham hock. In step 3, when ham hock are tender, cut meat from bone and return to the soup. Discard bone. Add 1 peeled and cubed potato, 1 cup diced carrots, and water to cover. Simmer 20-30 minutes, or until potatoes are tender. Garnish with sour cream.
El Salvadoran Pupusas
These stuffed savory pancakes are the national dish of El Salvador. Other versions of corn cakes exist throughout Latin American countries.
Makes about 4 servings
Ingredients:
2 cups masa harina (corn flour), or as needed
1½ cups warm water, or as needed
1 teaspoon Kosher salt
Vegetable oil for cooking
Fillings: 1 to 2 cups total of shredded mild cheese such as Monterery Jack, mozzarella, Queso Fresco; or refried beans; or shredded meat such as chicken or pork
For serving: 1 to 2 cups Curtido (Latin-style sauerkraut) and ½ cup salsa
Directions:
Stir together masa harina, 1 ¾ cup water, and salt. The dough should feel slightly soft but not sticky. If the mixture is too dry, add more water, one tablespoon at a time. If the mixture is too sticky, add more masa harina, one tablespoon at a time. Cover dough with a damp towel and let rest 15 minutes.
Wet your hands form the dough into 8-12 balls. Roll each ball until smooth and then flatten to a 1/4-inch disk.
Cup the disc in your hand to create a shallow dish for filling. Add 1-2 tablespoons of your choice of filling. Bring the edges of the dough up and pinch seal the dough and enclose the filling inside. Lightly oil your hands, and gently press the pouch flat into a 1/2-inch thick disk. Place the pupusa on a plate and cover with a damp towel. Repeat with the remaining dough.
Heat a heavy (preferably cast iron) pan or griddle over medium heat for 10-15 minutes. Brush pan with oil. Fry pupusas for 3-5 minutes on each side, or until they are lightly browned with some charred spots.
Serve pupusas while still warm, with curtido and salsa.
Korean Kimchi Fried Rice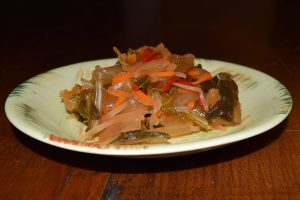 This dish is quick and easy to make. Kimchi fried rice is a common comfort food dish in many Asian households.
Makes 1 serving, may be multiplied by any number of servings
Ingredients:
1-2 tablespoons canola or peanut oil
2 green onions, white and green portions sliced separately
1 small clove garlic, minced
1/2 cup finely chopped kimchi, with juice
1 egg, beaten
1 cup cooked cold rice
Dash of soy sauce
Dash of ground white pepper
Dash of sesame oil
Directions:
In a wok over high heat, stir fry chopped white onion and garlic for 3- seconds in very hot oil. Add the kimchi and cook 1-2 minutes, or until liquid evaporates completely.
Add the egg and stir mixture until egg is partially cooked. Add the rice and toss for 1 to 2 minutes, or until well-combined not hot throughout.
Sprinkle with soy sauce, white pepper, and sesame oil. Stir until well-combined and steaming hot. Serve immediately, sprinkled with the sliced green onion.
Traditional preparation: Omit the egg in step 2. Top kimchi fried rice with a sunny-side up fried egg.
Kimchi Fried Rice Soup (variation): In step 2, cover the ingredients with boiling water or stock. In step 3, season to taste and garnish as directed.
For many more ideas about food preservation methods, including over 300 delicious recipes, get the book The Home Preserving Bible by Carole Cancler, available from booksellers everywhere.