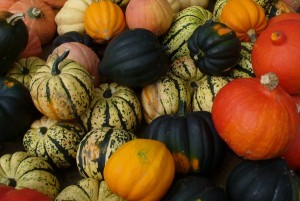 You might think that this winter squash gnocchi recipe is unusual. However, in some regions of Italy, squash is routinely used instead of potatoes. Serve squash gnocchi with meat stews or as the star in a simple supper dish or weeknight meal. Drizzle cooked gnocchi with browned butter and sprinkle fresh sage leaves; or toss cooked gnocchi with butter and cheese, chopped nuts, or bacon. Squash gnocchi is also wonderful for breakfast or dessert with yogurt, honey, and cinnamon.
Squash Gnocchi Recipe
Ingredients:
1 cup baked and mashed winter squash (such as acorn, butternut, carnival, or kabocha)
1 egg
1¼ cups (approximate) all-purpose flour, or as needed
1 teaspoon salt (optional)
Directions:
Place the squash in a small (1 quart), heavy saucepan. Heat pan over medium heat, stirring every minute for about 10 minutes, or until the squash is reduced by about half. This step removes much of the moisture from the squash so that less flour is needed (the secret to lighter gnocchi). You can skip this step, but you will need to add ½ cup flour (or more).
Cool squash to room temperature before you add the egg and mix well with a fork. Add 1 cup flour and stir again with a fork until a stiff, but sticky dough forms. Divide the dough into 6 portions, each about the size of a golf ball.
Sprinkle a working surface with flour. Roll each ball of dough into a long snake about the width of your thumb. Use a dinner knife to cut each length of dough into 1-inch pieces. If you wish, you may press a fork lightly into each piece and pull slightly forward to get the traditional 'hash' marks on one side of the gnocchi as well as form a slight cup that helps gnocchi hold onto sauce. Sprinkle additional flour only as needed to keep the gnocchi from sticking to the work surface. Gnocchi is ready to cook or freeze.
How to cook gnocchi
Fill a large (10- or 12-inch) skillet ¾ full with water and bring to a boil. If you did not add salt to the gnocchi dough, add 1 tablespoon salt to the cooking water. With the water at a full boil, add gnocchi to the pan, spacing them slightly apart. They will sink to the bottom. When the gnocchi are done (30-60 seconds), they will float up to the top. Remove cooked gnocchi with a slotted spoon. If you are serving them immediately, place them in a warm serving dish. If you plan to serve them later or freeze them, place them on paper or cloth towels to drain. Repeat with the rest of the dough until all the gnocchi are cooked.
How to freeze gnocchi
Many recipes call for freezing raw gnocchi dough. But I like to cook gnocchi before freezing so they just need to be heated through in a sauce. To freeze gnocchi, place cooked and drained gnocchi in one layer on a foil or parchment lined baking sheet, and then freeze for 2 hours, or until firm. Transfer to freezer-safe containers, such as rigid plastic containers, canning jars or other tempered glass jars, or thick plastic bags designed for freezer use. Freeze gnocchi up to 3 months.
For more information about food preservation methods, including over 300 delicious recipes, get the book The Home Preserving Bible by Carole Cancler, available from booksellers everywhere.