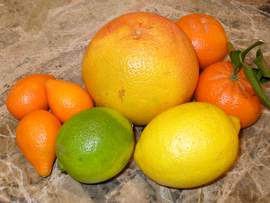 Citrus fruit is in season during winter, from November to April in California and Florida. Specific types of citrus fruit ripen at different times. For example, grapefruit tend to ripen all season long, navel oranges ripen before Valencia oranges, and Meyer lemons ripen mid-season.
Although most commonly eaten fresh, there are several food preservation methods suitable for citrus fruit. You can preserve citrus fruit to enjoy beyond the growing season using any of several food preservation methods including drying, canning, marmalade (a type of fruit jam), freezing, fermenting into vinegar, pickling with salt, and macerating in alcohol.
Fresh citrus fruit lasts longest when stored in cool (40°F to 50°F), dry (60 to 70 percent RH) conditions; place in a basket to allow for good air circulation and to prevent mold growth. In the refrigerator (<40°F), store citrus in the vegetable bin or in a plastic bag to prevent it from drying out.
Drying orange peel and lemon peel is a common way to preserve the flavor of citrus fruit. You can dry the entire rind or just the zest (the outer colored portion, without the white pith) using a solar dryer, conventional oven, or food dehydrator. The white pith is bitter, so removing the zest or colored portion usually results in better flavor. Choose citrus fruit with thick rinds for zest; they're easier to prepare. Choose organic fruit for peels without chemical residues. Organic citrus fruits may not have bright colors because they aren't injected with artificial dyes. Dried lemon or orange peel or zest can be used in many recipes calling for fresh citrus fruit, as well as ground into a powder for use in baked goods.
Drying sliced oranges and lemons or any other type of citrus (such as grapefruit, lime, or tangerine) is uncommon, but another way to preserve citrus fruit flavor for use in a variety of recipes. Dry 1⁄4-inch slices with or without the rinds, as desired. Some rinds contribute more bitter flavors than others. When choosing a variety of citrus fruit for drying, remember that flavors intensify when dried. Bitter citrus fruit such as Seville oranges will become more bitter after drying. Try dried citrus fruit slices in recipes such as Asian orange beef stir-fry, Italian lemon chicken, as a salad garnish, baked into a dessert tart, or simply to flavor a pitcher of ice water.
Candied orange peel is a drying method that simmers sliced wheels or strips of orange peel (zest only, or including the white pith) in simple syrup before drying. To remove bitter flavors, blanch the wheels or strips of rind in 1 to 3 changes of boiling water, before simmering in syrup. Sugar-infused dried fruit creates chewy, sweet candied citrus fruit for snacks or garnish.
Dried citrus fruit leather is successful when combined with other fruit purées. Citrus fruit is watery when puréed, so combine it with other fruits such as banana or pear. Try dried banana-orange fruit leather or pear-lemon fruit leather.
Canning grapefruit segments as well as mandarin oranges or other mixed citrus fruit makes a refreshing fruit dish for breakfast as well as dessert. Use a very light to medium sugar syrup or citrus juice for the canning liquid. Leftover canning liquid from citrus fruits can be used to make a refreshing cocktail by adding to champagne or club soda.  Other popular canning recipes for citrus include lemon or lime curd and marmalade.
Marmalade is a type of jam or fruit preserve made with whole citrus fruits, including the fruit, juice, and rind (both the colored zest and the spongy white pith). Pectin—the substance that makes jams thick when cooked with sugar—is concentrated in the white pith. However, the pith is also bitter. A good marmalade achieves a balance of bitter and sweet. Orange marmalade is classic, however mixing citrus fruits makes delicious marmalades for toast as well as a condiment to serve with roast or grilled meat, chicken, or seafood and cheeses.
Freezing fresh citrus juice or zest is another easy way to store the delicious, refreshing taste of citrus fruit. Freeze citrus juice in ice cube trays to create handy 2-3 tablespoon portions to add piquancy to any sauce or salad dressing. Use citrus juice when freezing other foods, too. Orange and lemon juice are also useful when freezing vegetables without salt; drizzle 1 to 2 tablespoons lemon or orange juice on each quart of vegetables (especially carrots, beets, or asparagus) before packaging for frozen storage. Freezing whole or sliced fruit of any type of citrus is not recommended. When freezing fish, use lemon juice in a ratio of 1/7 with water (1/4 cup lemon juice and 1-3/4 cup water) with 1 packet (about 2 teaspoons) unflavored gelatin. Dip fish into this lemon-gelatin glaze before wrapping and storing in the freezer to extend the storage life of the fish and protect the flavor.
Ferment citrus fruit rinds to make vinegar; it will capture the essence of the fruit you use. The general process is to ferment water, wine or beer yeast, and trimmings such as orange peels. Full acetic fermentation usually takes 2 to 4 weeks. Making vinegar is a good way to use the trimmings from just about any produce. People around the world make vinegar from a variety of ingredients, including potato peels, apple juice, pineapple peels, and sugar cane juice, to name a few.
Pickling is a surprising and delicious food preservation method for citrus fruit. Kumquats may be canned whole in sugar syrup or pickling liquid with or without spices such as cinnamon and cloves. Oranges, lemons and limes can be pickled using salt and are popular in North African and Indian cuisines. Citrus juice can also be used as the pickling or canning liquid for other fruits or vegetables. Try pickled onions with orange juice, lime juice, and vinegar; added to canned peaches as lemon zest or orange peel, as well as used as an ingredient in citrus zest and juice in salsas and chutneys.
Macerating citrus fruit in alcohol is a common food preservation method using lemons to make the sweetened liqueur known as Limoncello. Neutral grain alcohol or vodka is infused by soaking lemons for about 4 weeks, then straining the liquid and combining with simple syrup. This technique is equally delicious with mandarin orange and many other fruits including rhubarb, cherries, and strawberries.
For more information about food preservation methods and recipes, see the book The Home Preserving Bible by Carole Cancler, available from booksellers everywhere.