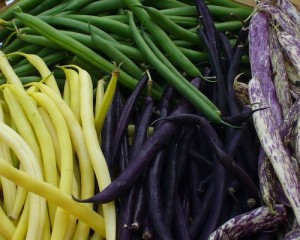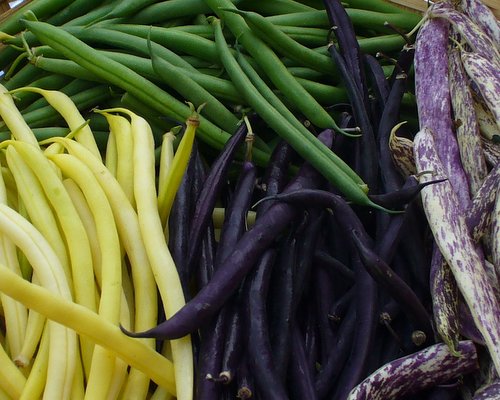 You have a choice of several different methods to dry food. Conventional ovens and electric dehydrators are used indoors in controlled conditions. Shade drying places food out of direct sunlight, in a location with very warm air or very good circulation, or both. Suitable locations may be outdoors—such as an open shed or covered or screened porch—or indoors in a well-ventilated attic or room, as well as inside a car or camper. One of the most common shade-dried foods is green beans made into hanging bean "britches".
Dried green bean "britches" hang on a line (like socks or trousers—britches—on a clothesline). This drying method is best suited to dry climates. To make the britches, wash and dry the beans, but do not trim.  To improve storage length, soak beans in 10 to 15 percent cold salt solution for 15 minutes before stringing. Use a large needle and heavy-duty thread (upholstery or buttonhole type), fishing line, or any other twine or cord. Thread each bean near the stem end; knot the thread around the end of each vegetable (to keep it from sliding along the thread). Create 3-foot lengths, or enough beans for one meal (1 pound makes about 4 servings). Leave 6 to 12 inches string at either end for hanging. Hang in a shaded area with good air circulation, such as a covered porch or an attic. Dry until leathery. Store in place or transfer to an airtight container and store in a cool, dark, dry place.
Dried Beans simmered with Bacon: This recipe works especially well with flat Italian-style beans that you have preserved by drying, or any type of green bean that is mature and harvested late in the season, even after seeds have started to form, but are not fully developed. In a saucepan over high heat, bring to boil 3 cups water and 1 cup dried whole or cut green beans. Add 1/2 pound diced raw bacon, 1 small chopped onion, 1/2 teaspoon dried oregano, and a big pinch of crushed or ground dried red pepper. Reduce heat, cover, and simmer slowly for 3 to 4 hours. Maintain a very low simmer and add more water during cooking, if necessary to keep beans swimming slowly. Serve as a side dish. Makes 4 to 6 servings.
For more information about food preservation methods and recipes, see the book The Home Preserving Bible by Carole Cancler, available from booksellers everywhere.
You might also like: