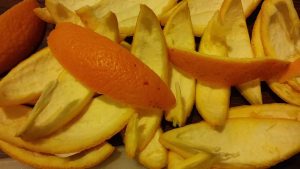 Use this simple recipe to make homemade fruit pectin from apples or oranges. Pectin helps jams and jellies thicken, especially when you want to make old-fashioned cooked jam or jelly using fruits and fruit juices that are naturally low in pectin. Low pectin fruits include apricots, sweet cherries, figs, kiwis, pineapples, rhubarb, strawberries, or any type of fruit that is ripe or overripe (underripe fruits are higher in pectin; pectin decreases as fruits ripen).
Making homemade pectin is one way to use apple culls, orange peels, and fallen fruit. Use any type of underripe apple; ripe or overripe apples contain less pectin, so are not a good use for this technique—consider making apple cider vinegar instead. Sweet orange varieties are preferred for general use pectin; bitter oranges, such as sour or Seville may produce pectin with bitter flavors. Be sure that fallen fruit is washed well under plenty of running water.
Homemade Orange or Apple Fruit Pectin
Yield: 3 half-pints
Ingredients
2 pounds underripe apples washed and cut into 1-in. pieces (do not peel or core) OR 2 pounds orange pits and thick peels especially the white pith (from about 6 pounds whole oranges), chopped fine
2 cups water
2 tablespoons fresh lemon juice
Directions
In a large non-reactive (stainless or enamel) saucepan, add prepared fruit, water, and lemon juice. Cover and let stand 1 hour.
Bring to a boil over high heat. Reduce heat to medium-low and simmer the mixture for 20 minutes, or until fruit is tender.
Pour into a jelly bag or a strainer lined with cheesecloth. (A jelly bag is composed of mesh material and is sold with a stand that holds the bag over a bowl while the fruit mixture drains. It's not necessary, but a helpful tool if you plan to make jelly often every year.) Allow to drain overnight. If you wish to retain a clear liquid, do not press on solids to extract more juice or it will turn the pectin cloudy; let the juice drain naturally. However, for most types of jam, cloudy pectin is not noticeable.
Return juice to the saucepan and boil over medium-high heat until reduced by half.
Be sure to taste your homemade pectin before storing. Homemade pectin should have a very fresh, clean flavor, reminiscent of the apples or oranges from which it was made.
Store homemade pectin in the refrigerator up to 3 days. For longer storage, you can freeze it or preserve it using a boiling water bath canner. Here's how:
To freeze homemade pectin, pour pectin into freezer-safe containers, leaving 1/2 inch headspace. Chill completely, cover, and freeze up to 6 months.
To can homemade pectin, use the hot pack method, fill hot pectin into hot jars and adjust to 1/4-inch headspace. Process half-pints for 10 minutes. Cool completely, test the seal, label, and store canned pectin up to 1 year.
Before using your pectin to make jam or jelly, you will want to test it for adequate pectin. Estimating the pectin content can help you decide how much sugar to add to make thick jam or jelly. The lower the pectin content, the more sugar (and acid) you need to make a thick product.
To test for adequate pectin:
Place 1 tablespoon liquid and 1 tablespoon 70 percent rubbing alcohol (available at any drugstore) in a small jar with a lid. Close jar and shake gently to mix thoroughly. Let stand for 1 minute. Fruit with high-pectin content will form one jellylike mass. If juice forms into several small lumps, it has medium pectin. If it shows lots of little lumps, there is not enough pectin for jelly. Caution: do not taste this solution and discard immediately after testing.
For more recipes and information about pectin and making jam, plus many other food preservation techniques for all types of foods, see the book The Home Preserving Bible by Carole Cancler.
Shop for cooking tools and food preservation equipment on the Amazon marketplace. You can quickly find what you need for canning, drying, fermenting, pickling, curing, freezing, or sealing foods. Then simply order and pay using your safe and secure Amazon account.