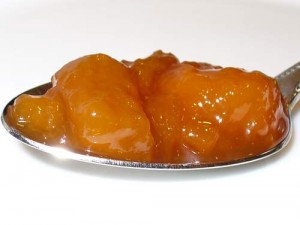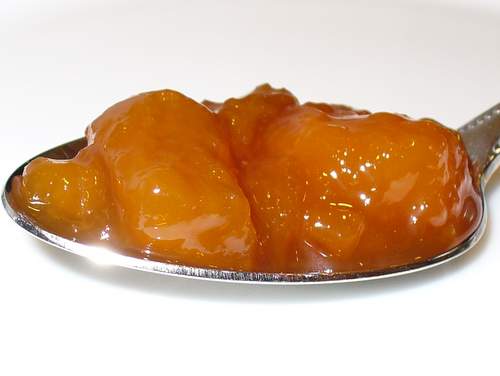 Use the following apricot jam recipe with any type of stone fruit including cherries, nectarines, peaches, plums, and their hybrids, such as pluots and apriums. You may also want to read about fruit pectin and techniques for making jam without pectin.
Apricot Jam Recipe without Pectin
Makes 3 to 4 half-pint jars
Ingredients
3 cups (2½ to 3½ pounds) pitted, and crushed* apricots or other stone fruit (cherries, nectarines, peaches, plums, pluots, and apriums)
2½ cups sugar
1 tablespoon bottled lemon juice
1 teaspoon butter (reduces foaming)
Directions
Prepare a boiling water–bath canner, half-pint jars, and lids.
In a large (4- to 6-quart), heavy stainless-steel or enamel saucepan, stir together apricots, lemon juice, and sugar until well blended. Bring to a boil over medium heat, stirring constantly until sugar dissolves and mixture comes to a boil.
Reduce heat slightly, but maintain a boil. Continue to cook, adjusting heat as needed to prevent boiling over and stirring frequently to prevent sticking. Cook until thickened to desired consistency. To check consistency, use either the refrigerator test or the temperature test. Refrigerator test: Spoon a small amount of jam on a cold plate and put it in the freezer for a few minutes. When the mixture is cold, check the consistency. Temperature test: If you don't have one, you will need to buy a standard candy thermometer or digital candy thermometer, and boil until the mixture reaches 218-220°F.
Turn heat to very low to keep jam hot while you fill jars. Skim off any foam before filling jars. Fill hot jars, leaving 1/4-inch headspace. Wipe the jar rim with a clean, dampened paper towel. Secure the lid.
Process half-pints for 10 minutes. Cool completely, test the seal, label, and store jars. Use within one year for best flavor.
*How to peel, pit, and crush stone fruits
To peel "fuzzy" stone fruit such as nectarines and peaches, cut a shallow 'X' opposite the stem end, dip fruit in boiling water for 30 to 60 seconds and then dip in ice water. If you don't have one, a wire "spider" strainer makes this job easy. Skins should peel off easily by grabbing at the edge of the 'X' with the blade of a small knife (or your fingers) and pulling. You may leave the peel on smooth-skinned stone fruits such as apricots, cherries, and plums.
To pit stone fruit, cut peeled or unpeeled fruit in half, and then remove and discard pits. "Freestone" varies have pits that slide easily off the fruit; "cling" varieties are harder to pit. For cherries, you may want to buy a cherry pitting tool.
To crush unpeeled fruit, chop with a knife. Crush or chop a small amount at a time and place in a measuring cup; repeat with more fruit until you have the correct amount. To make large jobs easier, buy a food mill; I particularly recommend the OXO food mill, the Foley food mill, or the Victorio food strainer. If you already own a KitchenAid mixer and the KitchenAid food grinder attachment, then get the KtichenAid ruit and vegetable strainer attachment which you can use for fruits as well as tomatoes. KitchenAid makes wonderful tools, but every attachments runs about fifty dollars (or more)…it's an investment.
To crush peeled fruit, mash with a potato masher (or very soft fruits with the back of a large spoon).
Shop for some of our favorite cooking tools and equipment on the Amazon marketplace. You can quickly find what you need for any food preservation method, including canning, drying, fermenting, pickling, curing, freezing, or sealing foods. Then simply order and pay using your safe and secure Amazon account.
For more information about making jam and many other food preservation methods for all types of foods, buy the book The Home Preserving Bible by Carole Cancler.