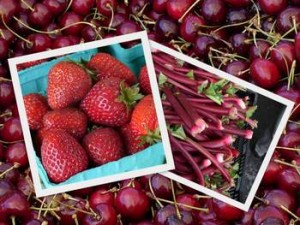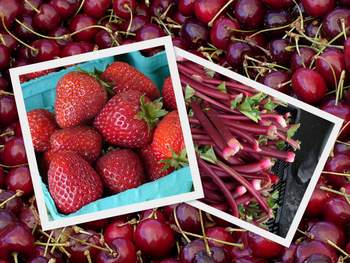 The intensely flavored Italian limoncello liqueur recipe is made in Sorrento, Italy from lemons. While in Sorrento, I purchased a dish towel with a homemade recipe for limoncello printed on it (in Italian, of course). I've used the recipe often, and found that it adapts to many other fruits, such as strawberries, cherries, and surprising, also to rhubarb. All of these delicious fruit liqueurs are easily homemade in the same way as limoncello.
To make limoncello (or any other fruit 'cello'), first you simply soak the chopped fruit in vodka. Second, you make a simple syrup by combining sugar and water (see the easy recipe below).  Finally, strain the fruit-infused vodka and stir together with the simple syrup.
If you like a sweet-tart liqueur, make your limoncello with rhubarb. Make it with cherry or strawberry for a sweeter adult beverage.
To enjoy your sweet, fruit liqueur, drink "cello" icy cold and straight-up as they do in Sorrento, or use it to make refreshing cocktails (recipes for several cocktails are also below).
Strawberry Liqueur Recipe (Fragole Cello)
Makes about 3 cups
Ingredients:
1 pint fresh strawberries, washed, hulled, and halved
1½ cups 100 proof Vodka (375 ml bottle or 12 fluid ounces)
1½ cups water
¾ lb. (1½ cups) granulated sugar
Directions:
Combine the fruit and vodka in a clean and sterilized one-quart glass jar. Cover, place in a cool location and let stand 4 days or up to 30 days. Strain and reserve the infused vodka. (Discard the macerated fruit, or use to make upside down cake.)
While vodka is infusing, in a medium saucepan, stir together water and sugar. Bring to boil over high heat, stirring occasionally. Reduce heat to low and simmer 2 minutes. Remove saucepan from heat and cool syrup to room temperature. Store syrup in a bottle in the refrigerator until ready to use.
Combine strained fruit-infused vodka and simple syrup in a sterilized one-quart glass bottle or jar. Store in the refrigerator. Keeps indefinitely.
Variations:
Rhubarb Liqueur Recipe (Rabarbarcello )
Substitute for the strawberries, 1 pound fresh rhubarb, washed, stemmed, and sliced.
Cherry Liqueur Recipe (Cigliegiolo)
Substitute for the strawberries, 1 pint fresh cherries, washed, stemmed, and halved, but not pitted.
Cocktail Recipes
Enjoy fruit liqueur cold, served up straight in a shot glass, or use in the following cocktails:
Highball Cocktail: Pour 2 ounces liqueur over ice in a tall glass, top with club soda, and garnish with a sprig of mint.
Southside (Mint) Cocktail: Place ¾ ounce vodka, ¾ ounce liqueur, the juice of ½ lime, and 10 mint leaves in a cocktail shaker. Add 5 to 7 ice cubes and shake 20 times or until the sides of the shaker get cold and frosty. Strain cocktail into a martini glass and garnish with a fresh strawberry or cherry.
For more food preservation methods, including over 300 delicious recipes like this one, get the book The Home Preserving Bible by Carole Cancler, available from booksellers everywhere.