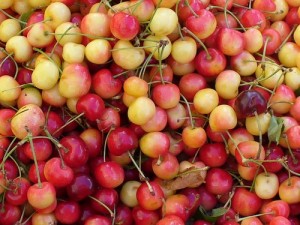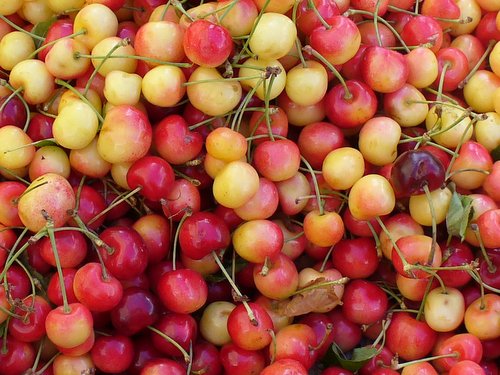 Popular food preservation methods for whole or half cherries include canning, freezing, and drying. Beyond these basic methods, you can preserve cherries in many other interesting ways: making crack seed–a dried cherry snack food, pickling fresh cherries, canning or freezing cherry purée, macerating (soaking) cherries in rum, or making cherry vodka liqueur (Ciliegia Cello). Use any variety of cherry in these recipes, sour pie cherries or sweet cherries such as Bings.
How to Pit Cherries
Use the loop end of a hairpin, paper clip (opened up into an S shape). Hold one end and push the looped end into the center of the cherry. Feel your way around the pit, and then pull to bring the pit out. This "tool" also works to pit ripe (black) olives (but not green ones) and pulling the hull from a strawberry.
One other DIY cherry-pitting method: If you have a plastic straw or pastry tip, press the stem end of a cherry onto it until the pit pops out the other side. The larger the hole in your straw or pastry tip, the more cherry fruit you will lose with the pit. So this can be less than ideal depending on your available tool.
Some pits are easier to extract than others! Ripe cherries are usually easier to pit than under-ripe or over-ripe fruit.
Dried Cherry Crack Seed Recipe
Salty dried fruits known as crack seed are popular in Hawaii. Crack seed is a good snack after exercise to restore salt lost from perspiration and reduce muscle cramps. Pits and seeds of many common fruits (including cherries and apples) contain cyanide-releasing chemicals. Avoid splitting cherry pits and chewing the soft inside seeds to prevent accidental cyanide poisoning. Parents should teach their children not to eat fruit pits and seeds. The kernels of specific varieties of Prunus stone fruits have been developed for edible seeds that are used in some types of commercial crack seed dried fruits. To make cherry crack seed: In a small saucepan, bring to boil 1 qt. water, 1 cup brown sugar, 3 TB. salt, and the juice from 3 medium lemons. Reduce heat and simmer 10 minutes. Add 1 tsp. Chinese five-spice powder and 3 lb. (6 cups, pitted) fresh cherries. Bring back to boil. Reduce heat and poach gently for 5 minutes. Remove from heat and allow cherries to cool in syrup 2 hours or up to 5 days before drying. Preheat an oven or food dehydrator to 130°F to 140°F. Place prepared fruit on drying trays. Dry until pliable for snacking. Cool 30 minutes, or until no longer warm. Remove from drying trays. Store in an airtight container in a cool, dry place up to 2 months. Freeze for longer storage.
Substitutions for five-space powder: Like me, many students in my cooking classes do not seem to prefer the flavor of five-spice powder. Chinese five-spice typically contains equal parts of star anise, cinnamon, clove, fennel seed, and Szechuan peppercorns. But different manufacturers have products with different flavor profiles. In some formulas, five-spice may also contain nutmeg, black pepper, ground ginger, and dried orange peel. So, you can buy five-spice powder and try different brands to find a formula you prefer, or grind your own blend using use any of the above spices you prefer. Or keep it simple and use a single spice such as ground cinnamon or black pepper (either of these spices with some fresh orange zest makes a nice combination appealing to almost anyone). On a different note, you can tbuy li hing mui powder, which is salty, sweet, and sour with a slight licorice flavor, but has grown in popularity as an ingredient in foods from candy and cocktails to vinaigrette or as a rub for grilled meats and vegetables.
Canned Cherries Recipes
Both of these recipes have an alternate to canning. But for long term, shelf-stable storage that doesn't require refrigeration, canning is a handy technique to know. Read: how to get started with the canning preservation method.
Pickled Cherries Recipe
For each quart (2 pints), prepare about 2½ pounds fruit and 1-1/2 cups pickling syrup. Leave cherries whole or remove pits; if whole, prick with a fork to prevent bursting. For sour or pie cherries, use very sweet pickling syrup made with 1⁄2 cup sugar, 1 TB. vinegar, and 1⁄4 cup water. For sweet cherries, use mellow pickling syrup made with 1/2 cup sugar, 1/3 cup vinegar, and 1⁄4 cup water. To make pickling syrup: In a medium saucepan, stir together sugar, vinegar, and water. Bring to boil over high heat, stirring occasionally. Reduce heat to low and simmer 2 minutes. Cool and refrigerate until ready to use. To make pickled cherries: Bring pickling syrup to a boil. Add prepared fruit, and cook 2 to 5 minutes, or until hot throughout. Transfer to a sterilized jar, refrigerate, and use within 1 month. For longer storage, fill hot canning jars with hot fruit; pack tightly without crushing. Add hot canning liquid, adjusting headspace to ½-inch. Process pickled cherry pints for 15 minutes or quarts for 20 minutes (at 0 to 1,000 feet).
Cherry Sauce Recipe (for yogurt or ice cream)
For each quart (2 pints), use about 4 pounds of cherries. Wash, pit, and coarsely chop fruit. Measure 6 cups chopped fruit into a large saucepan and crush slightly using a potato masher or the back of a large spoon. Add 1½ cups water and cook over medium heat, stirring frequently, for 10 to 15 minutes, or until fruit is soft. Purée using a wire mesh strainer, food mill, food processor, or hand blender. Add ¼ cup sugar, or to taste. Fresh or bottled lemon juice may be added to enhance flavor, using 1-2 tablespoons or to taste. Reheat purée to a boil; if sugar was added, continue to cook until sugar is completely dissolved. Cool, package and freeze, or keep it hot while filling canning jars, adjusting headspace to ¼-inch. Process cherry purée pints or quarts for 15 minutes (at 0 to 1,000 feet).
Rum-soaked Cherries
In a small saucepan, stir together over medium heat 2 TB. granulated sugar and 1½ cups gold rum, until sugar dissolves completely. Cool to room temperature. In a sterilized 1-quart canning jar, add 3 pieces star anise, 3 whole cloves, and 1 cinnamon stick, and fill with (about 4 cups) washed and stemmed sweet cherries (prick cherries with a fork to pierce their skins and facilitate soaking).  Pour cooled syrup over the fruit. Cover and refrigerate. Best after 3 to 5 days. Use within 6 months. Serve rum-soaked cherries for dessert over ice cream or pound cake and use the syrup to make a refreshing cocktail: pour 2 ounces over ice in a tall glass and top off with club soda.
Variations for rum-soaked cherries: to omit the rum (but not the rum flavor), substitute brown sugar for the granulated sugar and 1¼ cups water, apple, or cherry juice for the rum; add 2 tablespoons rum extract and 2 tablespoons vanilla. To omit the alcohol altogether (extracts contain alcohol), substitute brown sugar for the granulated sugar and 1¼ cups water, apple, or cherry juice for the rum, and add ¼ cup molasses.
Cherry Liqueur Recipe (Ciliegia Cello)
Combine 2 pounds washed, stemmed, pitted, and crushed cherries with 750 ml vodka in a half-gallon or larger pickling crock or glass jar. Cover and place in a cool location for 4 to 30 days. Strain and reserve vodka. Discard solids (or use to make jam or fruit butter). Make a simple syrup: in a medium saucepan, stir together 3 cups water and 3 cups sugar and bring to boil over high heat; reduce heat and simmer 2 minutes. Remove syrup from heat and cool to room temperature. To make liqueur: Combine strained cherry vodka and simple syrup in a sterilized 2-quart glass bottle or jar (such as re-purposed wine bottles or canning jars). Store in the refrigerator. Keeps indefinitely. Enjoy cold served straight up, topped with club soda, or stirred into Coke for an adult cherry-laced beverage.