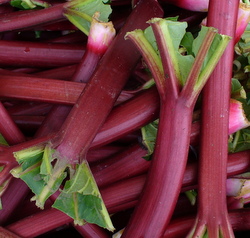 There are a surprising number of ways to preserve rhubarb, including canning, pickling, making jam or jelly, drying, freezing, or fermenting into wine. When preserving fruits and vegetables, use these guidelines:
Mature, slightly underripe produce is optimal for canning, pickling, and jamming.
Ripe produce is best for using fresh, drying and freezing.
Overripe produce is suitable for fermenting. (And may have started without you!)
How to prepare rhubarb for preserving
Trim and discard any leaves and stalk ends. (Never eat rhubarb leaves, which contain toxic levels of oxalic acids.) Wash stalks and slice into desired lengths (3 to 4  inches for pickled spears and ¼- to ½-inch for canning, freezing, sauces or purees.
Canning Rhubarb
You may want to read How to get started with the canning preservation method. Prepare 1¾ pound rhubarb (about 12 to 14 stalks) per quart. Toss with ½ cup sugar and let stand 3 to 4 hours in a cool place. Heat rhubarb and sugar in a saucepan over medium heat for 5 minutes, or until sugar dissolves and mixture boils. Boil for 30 seconds. Keep rhubarb hot while filling jars; use boiling water to adjust headspace to ½ inch. Alternatively, you may use unsweetened apple, pineapple, or white grape juice as a canning liquid. Artificial sweeteners may be used in any unsweetened liquid. However, they will only sweeten the fruit and will not help protect the color and texture like dry sugar or sugar syrup. Process pints or quarts of rhubarb for 15 minutes (at 0 to 1,000 feet).
Pickling Rhubarb
Cut rhubarb into spears or 1-inch slices and pack into a sterilized jar pint or quart canning jar.  Prepare a mellow to sweet fruit-pickling syrup. For each quart of rhubarb, combine in a saucepan 1 cup sugar, ½ cup water, and 2 to 8 tablespoons vinegar. Add spices if desired: 12 slices fresh ginger, 1 teaspoon whole cloves, and ½ teaspoon crushed red pepper. Cover saucepan and simmer syrup for 10 to 15 minutes; strain to remove solids. Pour hot syrup over prepared rhubarb in jar and refrigerate. The flavor improves after several days. Use within 1 month.
For longer storage, this recipe for pickled rhubarb may be canned using the hot pack method. Add prepared rhubarb to strained syrup in a saucepan, boil for 30 seconds, and pack while hot into sterilized jars, adjusting to 1/2 -inch headspace. Process pints or quarts of pickled rhubarb for 15 minutes (at 0 to 1,000 feet).
Strawberry-Rhubarb Sauce for Yogurt
In a large saucepan, add 3 cups hulled and sliced strawberries, 2 sliced rhubarb stalks, 1 tablespoon sugar, 1 tablespoon orange juice, and grated zest from half an orange. Bring to a boil over high heat, stirring occasionally. Reduce heat to medium-low and simmer 5 to 8 minutes, or until rhubarb is tender. Refrigerate and use within one month.
For longer storage, this recipe for rhubarb sauce may be canned. After cooking sauce, reduce heat to prevent sticking, but keep it hot while filling jars to ½-inch headspace. Process half-pints or pints of strawberry-rhubarb sauce for 15 minutes (at 0 to 1,000 feet).
Rhubarb Marmalade
If you've never made marmalade before, it is quite easy and foolproof. Since rhubarb is low in the jam-thickening agent, pectin, combine rhubarb with a sliced citrus fruit—the peels are loaded with pectin. In a large heavy stainless-steel or enamel pot, combine 1¾ pound rhubarb (about 12 to 14 stalks), 1 small quartered and thinly sliced orange (seeds discarded), 1 small quartered and thinly sliced lemon (seeds discarded), and 3 cups sugar. Let mixture stand for 30 minutes. Add 1½ teaspoons red wine or grape juice (optional for color and flavor). Bring mixture to a boil over medium heat, stirring constantly until it comes to a boil. Reduce heat slightly, but maintain a boil. Continue to cook, adjusting heat as needed to prevent boiling over and stirring frequently to prevent sticking. Cook 10-30 minutes, or until thickened to desired consistency. Check consistency* every 10 minutes. When desired thickness has been reached, remove marmalade from heat, cool, transfer to a clean jar, cover and refrigerate. Use within 1 month.
*To check consistency, use either the refrigerator test or the temperature test.
Refrigerator test: Spoon a small amount of jam on a cold plate and put it in the freezer for a few minutes. When the mixture is cold, check the consistency.
Temperature test: If you don't have one, you will need to buy a standard candy thermometer or digital candy thermometer, and boil mixture until it reaches 218-220°F.
For longer storage, this recipe for rhubarb marmalade may be canned. After reaching desired consistency, reduce heat to prevent it from sticking, but keep it hot while filling jars to ¼-inch headspace. Process half-pints or pints of rhubarb marmalade for 15 minutes (at 0 to 1,000 feet).
Dried Strawberry-Rhubarb Fruit Leather
Fruit leathers are made from purées that are spread thin and dried until supple and chewy. Combine rhubarb with another fruit for optimal results. Prepare strawberry rhubarb sauce as above. Preheat an oven or food dehydrator to 130°F to 140°F. Line the drying tray with plastic wrap or parchment paper. Spread sauce 1⁄4 to 1⁄2 inch thick on the liner. Dry until leather is evenly pliable and firm; there should be no soft spots. Peel from liner while still warm and cut or roll into serving pieces. Cool until no longer warm and then wrap pieces individually. Store in an airtight container in a cool, dry place for about 2 months. Freeze for longer storage.
Freezing Rhubarb
Choose firm, crisp stalks for freezing. Frozen sliced or chopped rhubarb is great for use in cakes, muffins, and smoothies. If making a pie, freeze rhubarb slices raw; then toss frozen rhubarb with sugar and thickener (such as tapioca) and load into pie shell. Top with second crust and bake immediately. Otherwise, freeze rhubarb dry, in its own syrup, or immersed in sweetened or unsweetened liquid using one of the following methods:
Dry: Spread prepared rhubarb on a tray and place in the freezer 30 minutes, or until solid. Pack into freezer containers. If raw, use within 3 months. For longer storage, blanch slices (up to 1-inch) for 1-2 minutes and longer spears for 2-4 minutes before freezing.
Syrup: Toss 1 cup prepared rhubarb with up to ¼ cup sugar. Let stand until sugar dissolves and syrup forms. Pack rhubarb into freezer containers.
Sweetened liquid: Prepare a sugar or pickling syrup as described above for canned or pickled rhubarb. Pack raw or blanched rhubarb into freezer containers and cover with cold liquid.
Unsweetened liquid: For sugar-free products, use unsweetened apple, pineapple, or white grape juice.
Fermenting Rhubarb
Many people enjoy making rhubarb wine, with or without ginger and cloves. Here is a basic Rhubarb Wine Recipe.
Macerating Rhubarb
If you don't want to go to the trouble of making rhubarb wine, then infuse vodka with rhubarb for refreshing summer cocktails. This refreshing cocktail is made like the Italian liqueur limoncello.