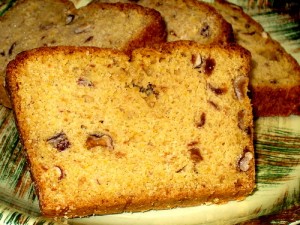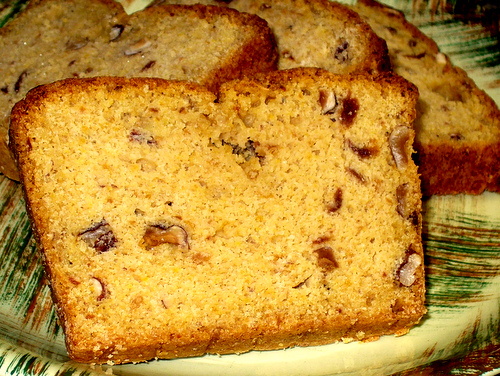 This delicious quick bread contains dried fruit, nuts, and chocolate. Usually baked to honor any of several Catholic bishop-saints, this cake is simply named Bishop's bread or Bischofsbrot. While the traditional Bishop's Bread recipe uses no leavening other than eggs, I prefer this more modern version using baking powder. Most recipes call for maraschino cherries or other candied fruit, plus raisins, sometimes figs, almonds, and chocolate chips. Feel free to eliminate the candied fruit and chocolate, and substitute any other dried fruit or nut. I've used dried apples, apricots, cherries, and cranberries, as well as walnuts, pecans, macadamias and hazelnuts with equally delicious results. For home-dried fruits, soak in hot water until soft and plump, and then cool to room tempearature before adding to batter.
Bishop's Bread
Makes one 9x5x3 inch loaf
2 cups all-purpose flour
1/2 cups whole wheat flour or cornmeal
2 teaspoons baking powder
1/2 teaspoon salt
3/4 cup butter
1 1/2 cups sugar
4 eggs
1 teaspoon vanilla
1/2 cup liquid (water, whey, brandy, or milk)
3/4 cup dried fruit (apples, apricots, cherries, cranberries, raisins, etc.)
1/4 cup coarsely chopped nuts (almonds, hazelnuts, macadamias, pecans, walnuts, etc.)
1/4 cup semi-sweet chocolate chips
Preheat oven to 350°F. Butter and flour a 9x5x3 inch loaf pan.
Sift together the flour, baking powder, and salt.
Beat butter until light and creamy. Beat in sugar slowly and continue to beat until light and fluffy. Add eggs one at a time, beating well after each addition. Stir in vanilla.
Add flour to the butter mixture and stir several strokes. Add the liquid and stir until all ingredients are well-combined. Fold in fruit, nuts, and chocolate.
Scoop the batter into prepared loaf pan and gently level the top. Fill pan no more than two-thirds full; bake any remaining batter in paper cups in a cupcake pan. Bake loaf for 1 hour, or until bread tests done. (Bake cupcakes about 20 minutes.)
Cool in pan 10 minutes, then remove bread from pan and cool completely on a rack.
For more information about food preservation methods and recipes, see the book The Home Preserving Bible by Carole Cancler, available from booksellers everywhere.