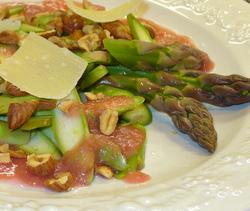 This refreshing salad uses spring and early summer vegetables and herbs. It could not be easier. Simply assemble the ingredients on individual plates or a serving platter.
4 servings
1½ to 2 pounds fresh asparagus, or 4 to 6 cups canned, frozen and salted asparagus
2 tablespoon rhubarb sauce (recipe follows)
2 tablespoons water
1 tablespoon chopped fresh tarragon leaves or chives
3/4 teaspoon sea salt, or to taste
1/4 teaspoon freshly ground white pepper, plus extra for seasoning
1/2 cup canola or other neutral vegetable oil
4 tablespoons toasted pine nuts or sliced almonds
2 to 4 ounces Parmesan or goat cheese, grated or crumbled
Wash the asparagus, trim the tough end and slice thinly (1/8 inch) on the diagonal or shave with a vegetable peeler. If using canned asparagus, drain thoroughly. If using frozen asparagus, steam or microwave to thaw and pat dry with paper towels. If using salted asparagus, drain thoroughly and/or soak to remove excess salt if desired.
Whisk together the rhubarb sauce, water, herbs, salt, and pepper until blended. Slowly whisk in the oil to make a thick vinaigrette. Thin with additional water or oil if necessary and season to taste with additional salt.
Arrange asparagus on a plate. Drizzle most of the rhubarb sauce around the plate, and then a little over the vegetables. Sprinkle with the nuts and cheese. Serve immediately.
Rhubarb sauce. Cut 1 pound (leaves trimmed off) rhubarb stalks into 1-inch pieces. In a small saucepan, heat rhubarb and ½ cup honey over medium until simmering. Reduce heat, cover and simmer gently for 7-10 minutes. Stir until rhubarb is smooth and chunky. Transfer to a bowl. Cool, cover and refrigerate until ready to use. Keeps about 1 week in the refrigerator. Freeze for longer storage. Makes about 2 cups sauce. Stir into plain yogurt for breakfast, or spoon over ice cream or pound cake for dessert.
For more information about food preservation methods and recipes, see the book The Home Preserving Bible by Carole Cancler, available from booksellers everywhere.