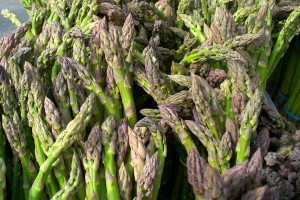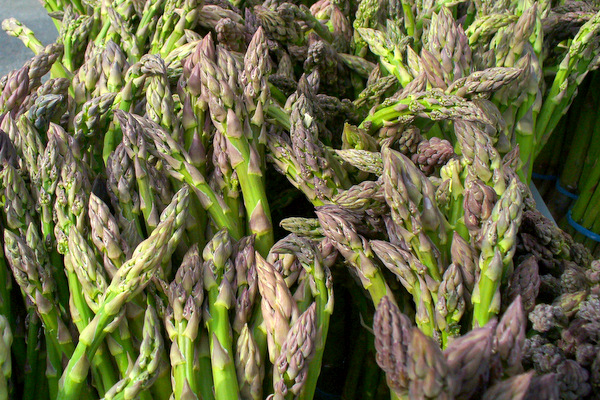 If you love asparagus, then you may want to preserve asparagus during the growing season to enjoy throughout the year. You can preserve asparagus by canning, pickling, freezing, drying, or salting
It's usually best to preserve only enough product to last until the following year, when the vegetable is in season again, or no longer than twelve months. So think about how often you want to eat asparagus all year long (once a week? Once a month?)—it may be less than you think.
Here's a summary of food preservation methods for fresh asparagus.
Canned asparagus. As with all plain vegetables and meats (low acid foods), you must preserve asparagus using a pressure canner. Plan on an average of 3½ pounds asparagus per quart. If desired, add 1 tablespoon salt to each quart jar before filling with asparagus. For hot pack, add asparagus to boiling water, cook 3 minutes, and keep hot while filling jars. For raw pack, pack spears tightly or 1-inch pieces to just below the threaded neck. Add hot cooking liquid or boiling water to 1-inch headspace. Process asparagus in a dial gauge pressure canner at 11 pounds or weighted gauge at 10 pounds; pints for 30 minutes and quarts for 40 minutes (at 0 to 1,000 feet).
Pickled asparagus: Prepare 1 to 1½ pounds asparagus spears or 1-inch pieces, or enough to fill a pint jar. Wide-mouth or tall pints (narrow 12-ounce jars) are ideal for asparagus spears. If desired, add 1 clove garlic and ¼ teaspoon crushed red pepper or a few black peppercorns to each jar before filling with asparagus. For pickling syrup, bring to a boil 1/2 cup water, 1/2 cup white vinegar, and 2¼ teaspoons pickling salt. Cover asparagus with hot pickling liquid. Cool, cover, and refrigerate. Pickled vegetables may be served within 1 to 2 hours, but are best after at least 3 days. Use within 1 month. For longer storage, this pickled asparagus recipe may be canned. Since pickled asparagus adds vinegar, you can use a boiling water canner. The acid in the vinegar makes it safe to use the lower temperature in a boiling water canner. Adjust pickling liquid to ½-inch headspace. Process pints (including tall pints) pickled asparagus in a boiling water canner for 10 minutes (at 0 to 1,000 feet). Use pickled asparagus as part of a vegetable tray or as an ingredient in salads (such as green, Niçoise, or pasta salad).
Miso pickled asparagus (Misozuke): Soaking blanched vegetables in miso (fermented soy bean paste) is a typical Japanese pickles. Blanch one pound prepared asparagus in boiling salted water for 1-2 minutes, or until tender but still firm in the center. Drain and pat dry. Place in a glass or ceramic dish and cover with white miso. Refrigerate up to 1 month.
Frozen asparagus. Blanch whole spears or cut asparagus in boiling salted water for 1-2 minutes, or until tender but still firm in the center. If you prefer no salt, the flavor of frozen asparagus can be improved by tossing each pound of asparagus with 1 to 2 tablespoons lemon or orange juice after blanching. Spread blanched asparagus on a tray and place in the freezer 30 minutes, or until solid. Pack into freezer- safe containers. Use frozen asparagus in almost any favorite recipe calling for fresh asparagus.
If you don't want to invest in either canning equipment or a freezer, then consider drying or salting. These methods produce shelf-stable foods that do not require refrigeration. In general, dried foods have a strong odor, yet delicate flavor after rehydrating. Many people find dried vegetables more useful and tasty than canned ones.
Drying asparagus. Drying vegetables is easy with an electric appliance called a food dehydrator, which can be purchased for as little as $50. Nesco makes a small, inexpensive food dehydrator that is good for first time users. If you are new to drying food, you can first try drying vegetables in your oven (see below). Vegetables need to be blanched before drying. Without blanching, the food will lose color and flavor during drying and subsequent storage. For most dried foods, steam blanching is preferred over boiling water blanching, so that additional water is not introduced and prolongs the drying time. Dry asparagus until they are leathery to brittle. After drying, cool, and then place dried vegetable in an airtight jar and seal with tape. Store in a cool, dry place. Properly packaged, well-dried foods can be stored at room temperature for up to 1 year. However, less dry, pliable dried food may have a shelf life of only a few weeks to a few months. Check dried foods every couple of month for spoilage, usually mold if they were not fully dried or moisture seeps into the container for any reason. Discard any moldy product. Use dried asparagus in any soup or stew recipe. Or, rehydrate dried foods by covering with boiling water and soaking 20 to 30 minutes, or until they have plumped up to their original size. Serve rehydrated asparagus as a side dish, or use in favorite recipes calling for fresh asparagus. Grind dry asparagus into a powder (using a coffee grinder reserved for spices and vegetables). Add boiling water to asparagus powder to make asparagus soup, enhance with cream or butter, if desired.
Oven Drying Method: Prepare a drying tray—stretch cheesecloth or natural muslin over an oven or cake rack or a wood frame, and attach it with masking tape, paper clips, or clothespin. Preheat oven to the lowest temperature setting (usually 140°F to 170°F). Maintain an oven temperature between 125°F and 145°F; check the internal temperature with an accurate thermometer. Decrease the temperature by propping open the oven door with a wooden spoon or folded towel. Caution: oven-drying is not safe in a home with small children.
Salted vegetables retain the flavor, texture, and nutrition of the fresh vegetable. Many people familiar with salted vegetables consider them to be superior to either canned or frozen vegetables. Salting is a very old-fashioned method that was popular in the early twentieth century. During the first and second World Wars, salting was promoted as an alternative to canning in order to conserve glass, metal, and fuel. Of course salted vegetables are—very salty! So, before using them, you may wish to remove excess salt by soaking in water. Soak vegetables in three or four times their volume of cold water for 2 hours, or until saltiness is reduced to your taste (up to 8 hours). Change the water several times to speed up the de-salting process. Use salted vegetables raw in salads, or prepare and serve salted vegetables in the same ways you would as if they were fresh. The heavy salt used in dry salting is out of step with today's tastes. You might want to try preserving a small amount of vegetables before preserving an entire crop.
Salted asparagus. Steam 1 pound cut asparagus over boiling water for 30-60 seconds, or until barely tender and slightly firm. Chill in ice water and drain thoroughly. In a large bowl, toss together the blanched asparagus and 1/3 cup (3.2 ounces) pickling or Kosher salt until evenly mixed. (Do not use table, sea, or iodized salt.) Pack the vegetables and salt into a sterilized 1-quart canning jar, leaving at least 1 inch headspace. Press gently as you add each layer to extract liquid. If juices do not cover asparagus, prepare a very strong brine using 1 cup pickling salt per quart of boiling water. Cool and pour enough brine over asparagus to cover completely. Fill a plastic bag with very strong brine and place over the asparagus to hold it under the brine. Place jar on a tray to catch any spill over during curing. Store container at 64°F to 72°F and allow to cure for 2 to 4 weeks. Remove the brine-filled bag, cover jar, and store salted asparagus in the refrigerator. Open the jar at least once a week and check for a white scum floating on the surface of the brine. Remove it immediately, if it appears–it isn't harmful but can create off-flavors if not removed. Keep the vegetables completely submerged in brine at all times during storage. Mold, soft vegetables, or rotten odors indicate spoilage; discard these vegetables without tasting. Under ideal conditions, salted vegetables may be stored in the refrigerator up to 6 months.
For more information about food preservation methods and recipes, see the book The Home Preserving Bible by Carole Cancler, available from booksellers everywhere.