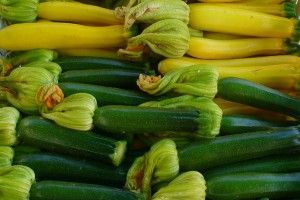 Zucchini is a prolific vegetable that grows quickly to immense size. Fortunately, many food preservation methods adapt readily to zucchini. Jokes frequently mention log-sized zucchini found in gardens after returning from vacation, or left furtively on neighbors' doorsteps during the night. However, you can make a variety of tasty items for your winter pantry that won't send your family or your neighbors running. You can preserve zucchini by freezing, drying, canning, pickling, salting (brining), and packing carefully for storage in a cold cellar or refrigerator. If you have a lot of zucchini growing in your garden (or a "helpful" neighbor who leaves them furtively on your doorstep), consider also these 10 delicious and inventive (courgette) zucchini recipes.
Frozen zucchini. Steam blanch ¼-inch diced or sliced zucchini over boiling salted water for 2-4 minutes, until tender but still firm in the center. Or dip grated zucchini in boiling salted water for 30-60 seconds. If you prefer no salt, the flavor of most frozen vegetables can be improved by tossing each quart of vegetables after blanching with 1 to 2 tablespoons lemon juice or 1/4 teaspoon grated nutmeg. Spread blanched vegetables on a tray and place in the freezer 30 minutes, or until solid. Pack into freezer- safe containers and store 8 to 12 months.
Dried zucchini. Prepare grated, diced or sliced zucchini as described for frozen zucchini. Alternatively, slice and grill zucchini for 2-4 minutes (without oil). Preheat an oven or food dehydrator to 130°F to 140°F. Place prepared zucchini on drying trays. Dry until brittle. Cool until no longer warm and then store in an airtight container in a cool, dry place for about 2 months. Freeze for longer storage. Dried zucchini can usually be adapted to almost any recipe that calls for fresh zucchini. Toss diced zucchini into soups. Use slices in place of pasta in lasagna or in casseroles such as this moussaka recipe.
Canned tomatoes and zucchini. Plan an average of 1 ¾ pounds tomatoes and 1/2 to 2/3 pounds zucchini per quart. Core, peel, and quarter tomatoes. Dice or slice zucchini. Bring tomatoes to a boil and simmer 10 minutes. Add zucchini and boil gently 5 minutes. If desired, add 1 teaspoon salt to each quart jar. Fill hot jar with hot mixture, adjusting to 1-inch headspace. Process tomatoes and zucchini in a pressure canner with a dial gauge at 11 pounds or weighted gauge at 10 pounds; pints for 30 minutes and quarts for 35 minutes (at 0 to 1,000 feet).
Bread and Butter Zucchini Pickles. Place 2 ½ cups thick (1/2-inch) zucchini slices and 1 ½ cups sliced onion in a large bowl. Toss with 2 tablespoons canning/pickling salt. Cover with 2 inches of ice cubes. Refrigerate 4 hours, replenishing ice as needed. Drain, rinse in a colander under cold running water, and drain again. In a saucepan large enough to hold the vegetables, combine 1 cup white vinegar, 1 cup sugar, 1 ½ teaspoons mustard seeds, ½ teaspoon celery seeds, and  ½ teaspoon turmeric; cover, and heat to boiling over high heat. Reduce heat to medium-low and simmer 10 minutes. Uncover, raise heat to high, add drained cucumbers and onions, and reheat to boiling. Cool, cover and refrigerate up to 1 month. For longer storage, reduce heat to low and keep hot while filling canning jar to ½-inch headspace. Process pints of bread-and-butter pickles for 10 minutes (at 0 to 1,000 ft.). Makes 1 pint.
Zucchini relish. In a large bowl, toss together 1 cup chopped zucchini, 1 cup chopped red or green bell pepper, and 1 cup chopped onion, and 1 tablespoon canning/pickling salt. Cover and refrigerate 12 to 18 hours. Drain thoroughly in a colander. In a large stockpot, stir together 1 cup vinegar, ½ cup brown sugar, ¼ of a large garlic clove, minced, ¼ teaspoon mustard seed, ¼ teaspoon celery seed, and one big pinch each of ground allspice, cinnamon, and cloves. Bring to a boil over high heat. Reduce heat to medium-low and simmer, covered for 10 minutes. Add drained vegetables, raise heat again to high, return to a boil, and simmer, partially covered for an additional 30 minutes. Cool, cover and refrigerate up to 1 month. For longer storage, reduce heat to low and keep hot while filling canning jar to ½-inch headspace. Process pints of zucchini relish for 15 minutes (at 0 to 1,000 ft.). Makes about 1 pint.
The next two methods are not the most recommended food preservation methods for zucchini. However, they can be used to keep zucchini fresh for up to several months, if you choose specimens carefully and store the vegetables properly.
Cellared zucchini. Always choose young, firm, unblemished vegetables, and handle them carefully before and during storage. Wrap individually in tissue paper, or layer in shallow containers with dry sphagnum moss or straw to increase humidity. Store in a cool basement (<50°F), a spare energy-efficient refrigerator, or outside in a buried container. Suitable containers for burying include new metal or plastic garbage cans and plastic storage bins. Drill holes in the bottom of the container for drainage. Locate the container in an area convenient to your house, but away from garages and car fumes. Dig a hole just large enough to hold the container, with at least 2 inches sticking out above ground level. Load the container with layers of vegetables, separated by straw. Cover the top of the container with 1 to 2 feet of insulating material.
Brined (salted) zucchini. Choose small, ripe, sound zucchini (free from blemishes). Wash careful and place in a sterilized crock or canning jar and cover with strong (10 percent) brine, leaving at least 1 inch headspace. To make 10 percent brine, stir 3.7 ounces. (6 tablespoons canning/pickling salt or 3/4 cup Diamond Kosher) salt into 1 quart water until dissolved completely. Use a small plate or brine filled bag to weight the vegetables and keep them submerged. Place the salting container on a tray to catch any spill over during curing. Store container at 64°F to 72°F and allow to cure for 2 to 4 weeks. Cover container and store in a cool (40°F to 50°F) location (or a refrigerator). Open the container at least once a week and check for a white scum floating on the surface of the brine. Remove it immediately, if it appears–it isn't harmful but can create off-flavors if not removed. Keep the vegetables completely submerged in brine at all times during storage. Mold, soft vegetables, or rotten odors indicate spoilage; discard these vegetables without tasting. Under ideal conditions, most salted vegetables can be stored up to 6 months. To use brined vegetables, soak in fresh, cold water for 12 hours, and then prepare in any recipe calling for fresh.
For more information about food preservation methods and recipes, see the book The Home Preserving Bible by Carole Cancler, available from booksellers everywhere.