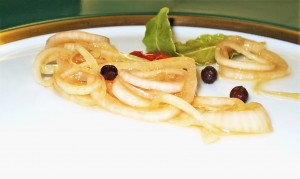 Many of these easy pickling recipes make refreshing accompaniments for grilled and barbecued foods, or add a crunchy bite to burgers and sandwiches. They feature common (and a few unusual) vegetables and fruits found in spring and early summer home gardens and farmers' markets. The techniques and flavors represent pickling ideas from around the globe.
The word "pickles" to most Americans means pickled sweet or dill cucumbers. However, people around the world have routinely pickled many kinds of fruits and vegetables. Pickling simply replaces some of the water in food by soaking it in a solution that changes its color, flavor, and texture. The pickling solution can contain salt, acid (vinegar, lemon juice, whey, miso), or alcohol.
These easy pickle recipes make foods that have a relatively short shelf life of one month in the refrigerator*. For pickled foods that can be stored longer than one month, you need to use either the old-fashioned salt-fermented pickling method or a tested recipe for canning "quick-process" pickles. Choose the best quality produce you can buy for these fresh "refrigerator" pickles.
10 easy refrigerator pickle recipes
Miso pickled asparagus (misozuke)
Blanch 1 pound prepared asparagus in boiling salted water for 1-2 minutes, or until tender but still firm in the center. Drain and pat dry. Place in a glass or ceramic dish and cover with white miso (fermented soy bean paste).  Refrigerate and use within 3 days to 1 month*, although best served within 24 hours. This recipe also works well with young bamboo shoots.
Rum pickled beets
Steam 1 bunch young beets in lightly salted water about 3 minutes, or until tender. Drain, cool, peel, and cut in quarters. Arrange cut beets in a small, deep glass or earthenware bowl. Sprinkle with 3 allspice berries, 1-2 sprigs fresh thyme, and 1 green onion cut in 1-inch lengths (white and green parts). Bring to a boil 1 cup malt or cider vinegar, ½ teaspoon salt, 2-4 tablespoons brown sugar, and 1 tablespoon white rum. Taste and add more sugar as desired, depending on whether you like your pickled beets tart or sweet. Pour hot liquid over beet slices in the jar. Cool, cover, refrigerate and use within 3 days to 1 month*. Best if made at least 3 days before serving. This recipe also works well for other root vegetables, including carrots, turnips, and rutabagas. If you have both light- and dark-colored vegetables, pickle them separately so the darker colors don't bleed onto the lighter ones; then drain and combine pickled vegetables in one dish for serving.
Salt-pickled greens
Place 4 cups washed, dried, roughly chopped (2 inch pieces), and lightly packed sturdy greens (kale, mustard, bok choy, rabe or raab, etc.) into a 1 quart sterilized jar. If desired, add 1-3 halved serrano or jalapeno peppers to the jar. Bring to a boil 2 cups water, ¼ cup white vinegar, 2 tablespoons sugar, and 1 tablespoon salt. Pour hot liquid over greens in the jar until covered completely. Cool, cover jar, refrigerate and use within 3 days to 1 month*. Best if made at least 3 days before serving. To serve, gently rinse greens in a colander and then toss with a little olive oil. While softer greens such as spinach, dandelion, and arugula are not often pickled, there is no reason why you can't. Soft pickled greens make a flavorful addition to many dishes, including soups and stews, a pot of beans, a frittata or omelet, to enhance a dish of steamed vegetables or boiled pasta, or a simple meal of steamed rice and poached egg with pickled greens.
Lemon-marinated mushrooms
Prepare 5 pounds small button mushrooms (slice or quarter if large). In a large saucepan, place the mushrooms, 6 tablespoons lemon juice, and water to cover. Bring to a boi, reduce heat and simmer 5 minutes. Drain mushrooms and place in a clean saucepan. Add to the mushrooms, 1½ cups olive oil, 2 cups white vinegar, 6 tablespoons finely chopped (white or yellow) onions, 3 tablespoons diced roasted red pepper or pimento, 1-2 tablespoons chopped fresh oregano or thyme (or 1-2 teaspoons dried), and 2¼ teaspoons salt. Bring to a boil, turn off heat, and cool mushrooms in the liquid until room temperature. Add 6 black peppercorns and 2 garlic cloves to a sterilized quart jar. Fill jar with mushrooms and pickling liquid. Refrigerate and use within 3 days to 1 month*. This recipe also works well with sliced fennel bulb.
Citrus pickled onions
Peel and slice enough spring onions (white or red parts only) to fill a sterilized pint jar. Layer the slices with 10 allspice berries, 2 bay leaves, 1 seeded and sliced hot pepper (such as habanero, serrano, or jalapeno). In a small saucepan, bring to a boil ¼ cup orange juice, ¼ cup lime juice, ¼ cup malt or cider vinegar, 1 teaspoon white or brown sugar (or to taste), and ½ teaspoon salt; simmer 2 minutes, or until sugar dissolves completely. Pour hot liquid over onions and spices in the jar. Cool, cover, refrigerate and use within 3 days to 1 month*. If desired, sprinkle with freshly snipped chives when serving. This recipe also works well with thinly sliced or shredded carrots, alone or in combination with onions.
Sake pickled English peas or pea pods
Prepare 1 pound shelled peas or pea pods, or enough to fill a sterilized pint jar. In a small bowl, stir together 1⁄3 cup rice vinegar, 2 tablespoons water, 1 tablespoon sake, 1 teaspoon salt and 1⁄2 teaspoon granulated sugar until sugar dissolves. Pour liquid over peas. Cover jar and shake until vegetables are thoroughly coated. Refrigerate. Pickled peas are best when eaten within a few hours as they change to an olive green the longer they marinate. Use within 3 days.
Whey pickled radishes
To make whey, place 2 cups plain yogurt in a sieve set over a bowl, and let drain for at least 30 minutes, or until you have ½ cup drained liquid. The yellow liquid that drains into the bowl is whey. Slice or shred about 4 cups radishes (any variety, red, globe, icicle, white daikon, green Korean, black Spanish, etc.) or enough to fill a wide-mouth, sterilized quart jar, leaving at least 1-inch headspace. Include 1-2 cloves sliced garlic layered with the radishes. Stir together ½ cup whey, 2 cups distilled or filtered water, and 1 tablespoon kosher salt, until salt is completely dissolved. Pour whey mixture over slices to cover completely. If there is not enough liquid, prepare more using the ratio of ½ cup distilled water, 2 tablespoons whey, and ¾ teaspoon kosher salt. Cover and weight the vegetables to keep them submerged in the liquid. To properly ferment vegetables, you must cover them to keep out air and weight them down so they don't float above the fermentation liquid. Many different covers and weights can be used. Here are some common methods: Cover vegetables with plastic wrap, cheesecloth, Swiss chard or grape leaves, or a cabbage-stem end (a thick slice cut from the stem end). Be sure to press the cover onto the surface of the food without trapping air underneath. Add a weight on top of the cover to prevent vegetables from floating, exposing them to air. Suitable weights include a whey/water-filled plastic bag, or a water-filled jar. Cover and let stand at room temperature (68°F to 72°F) for at least 3 days, or up to 3 weeks. During this time, the liquid may bubble up as it ferments. Lightly fermented vegetables have a refreshing effervescent quality, while fully fermented vegetables have a pronounced sour flavor. If the liquid stops bubbling before 3 weeks have passed, fermentation is complete, and they should be immediately moved to the refrigerator. Refrigerate and use within 3 days to 1 month*.
Spicy pickled rhubarb
Cut green or red rhubarb stalks (or a mixture) into spears or 1-inch slices and place in a sterilized quart jar. Prepare a pickling syrup: per quart of rhubarb, heat 1 cup sugar, ½ cup water, 2 to 8 tablespoons vinegar (for sweet to tart flavor), 12 slices fresh ginger, 1 teaspoon whole cloves, and ½ teaspoon crushed red pepper in a covered saucepan and simmer for 10 to 15 minutes; strain to remove solids. Pour hot syrup over prepared rhubarb in the sterilized jar. Cool, cover, refrigerate and use within 3 days to 1 month*. The flavor improves after several days.
Pickled Cherries
For each quart (2 pints), prepare about 2½ pounds cherries, or enough to loosely fill a 1 quart jar. Leave cherries whole or remove pits; if whole, prick with a fork to prevent bursting. For sour or pie cherries (including Montmorency and Morello), use a sweet pickling syrup made with 1 cup sugar, 2 tablespoons vinegar, and 1⁄4 cup water. For sweet cherries (such as Bing, Lambert, Rainier, Royal Ann, etc.), use mellow pickling syrup made with 1 cup sugar, 1/4 cup vinegar, and 1⁄4 cup water. To make pickling syrup: In a medium saucepan, stir together water and sugar. Bring to boil over high heat, stirring occasionally. Reduce heat to low and simmer 2 minutes, or until sugar is completely dissolved. To prepare pickled cherries, raise heat and bring pickling syrup to a boil. Add prepared cherries, and cook 2 to 5 minutes, or until hot throughout. Transfer to a sterilized jar, cool, cover, refrigerate and use within 3 days to 1 month*.
Brandy-soaked apricots or cherries (rumtopf)
Wash, pit, and halve 1-2 pound apricots or cherries (or a combination), or enough to fill 1 quart jar. In a large bowl, toss each 1 pound fruit with 1 cup with sugar until evenly coated. Transfer fruit and sugar to a sterilized 1 quart glass jar. Pour brandy over fruit to cover by at least ½ inch, or to the very top of the jar. You want to keep the fruit submerged in the brandy at all times; if necessary weight the fruit if the jar is not completely full. Place jar in a cool location for 4 days or up to 4 weeks, and then refrigerate up to 6 months. Use brandy-soaked in sweet and savory dishes. Serve with grilled meats. Or add fruit to the roasting pan during the last 30 minutes of cooking a roast pork or chicken. Make a delicious sauce for the roast meat by deglazing the roasting pan with some of the brandy liqueur, then simmering for 10 minutes with beef or chicken stock. Finish the sauce by whisking in a spoonful of soft butter and a pinch of thyme, and then season to taste with salt and pepper. Or serve the fruit for dessert over ice cream, pound cake, or cheesecake. Enjoy sipping the brandy syrup at room temperature or over ice. For a refreshing beverage, pour 2 ounces brandy syrup over ice in a tall glass and top off with club soda.
*A note about the safety of refrigerator pickles:
For many years, refrigerator pickles have been regarded as very safe. However, recent studies have concluded that harmful Listeria bacteria survive and multiply in the relatively low-acid refrigerator pickles over time and therefore pose some risk to anyone at risk for food-borne illness. Persons at risk include: newborn babies, persons with weakened immune systems (those who have HIV/AIDS, organ transplants, or take certain medications), persons with certain diseases (including cancer, diabetes, alcoholism, and liver or kidney disease), pregnant women and their unborn children, and older adults. If you are in a risk group, then you should treat refrigerator pickles like you would any refrigerated food and consume them within 3 days. Otherwise, you should consume only fermented or canned pickles, which by their nature contain higher levels of acid.
For more information about pickling and many other food preservation methods and recipes, see The Home Preserving Bible by Carole Cancler.