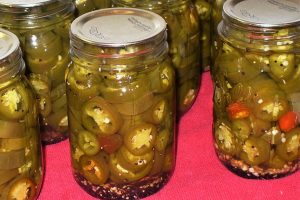 Pickled peppers have a multitude of uses. Pickled pepper rings can go on sandwiches, burgers, and tacos. Sprinkle them over salads or chop them with onion and add to mayonnaise for a quick tartar sauce. Serve them with vegetarian meals (such as rice and beans) to add interest to grain dishes. Or serve them with smoked fish or cheese on crackers for a satisfying snack. For information about canning other types of foods, plus seven more food preservation methods, including over 300 delicious recipes, get the book The Home Preserving Bible by Carole Cancler.
Sweet or Hot Pickled Pepper Slices
Makes about 2 pints
Ingredients:
1½ pounds (about 20 to 30) sweet or hot peppers* (pepper varieties may be mixed)
1¼ cups white vinegar (5%)
¼ cup water
1 teaspoon pickling salt
½ teaspoon granulated sugar (optional)
2 slices peeled and sliced carrot (optional)
2 small strips of onion, 3 in. long by 1⁄4 in. wide (optional)
*Almost any type of pepper is delicious when pickled. Some of the most commonly pickled peppers are: hot green jalapeno chilies, sweet Italian frying peppers, Hungarian hot wax, sweet banana, and roasted (and peeled) sweet red (bell) peppers. Other favorites include habanero, cherry peppers, yellow peperoncino, green serrano, shishito, Marconi, etc.
Directions:
Sterilize two pint-size or one quart jar.
Wash peppers. Slice into 1⁄4-inch-thick slices. Discard stem ends.
In a saucepan, combine white vinegar, water, pickling salt, and sugar (if using), and bring to a boil over high heat and stir until salt and sugar are completely dissolved.
To each sterilized jar, add 1 carrot slice and 1 onion strip (if using). Then fill jar with pepper slices, packing each layer lightly.
Pour hot or cool pickling liquid over the peppers (cool liquid helps retain crisp texture).
Cover jar and refrigerate. Use within 1 month. Peppers will remain crisp for about 1 week, but will eventually turn soft.
This pickled pepper recipe may also be canned. Here's how to do it:
How to can pickled pepper rings
Prepare a boiling water–bath canner, pint or half-pint jars, and lids. Quart-size jars may not be used. (If you are new to canning, read How to get started with the canning preservation method.)
Prepare sliced peppers and pickling liquid as described above. Keep liquid hot while filling jars.
Fill hot jars up with pepper slices, leaving 1-inch headspace. Then add hot canning liquid to 1/2-inch headspace. Remove air, wipe jar rim clean of any canning liquid, and secure the lid and screw band on the jar.
Process half-pint or pint jars in a boiling water bath for 10 minutes.
Cool completely, test the seal, label, and store jars. Use within one year for best flavor.
When fresh peppers are out of season, I look forward to pretty jars of these tangy, hot beauties ready and waiting on my pantry shelf.
Shop for some of our favorite cooking tools and equipment on the Amazon marketplace. You can quickly find what you need for any food preservation method. Then simply order and pay using your safe and secure Amazon account.