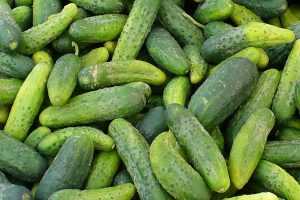 If you love crunchy pickles, be sure to try this recipe for Half-Sour Pickles, which are extra crisp, refreshing, and not too salty. So why are they called "half sour"? To make pickles by the traditional method, a weak brine of about 6% is used and the cucumbers are allowed to fully ferment, a process that takes 1 to-4 weeks.  For "half sour" pickles, a very weak brine of about half strength is used, and the cucumbers are only allowed to partially ferment, which makes them less sour as well as less salty as leaves them crunchy and very fresh tasting. To stop the fermentation, the pickles are stored in the refrigerator. Eventually, half-sour pickles will continue to "pickle" in the refrigerator, turning darker green and becoming softer over time. So make a batch, but plan to enjoy them within a few weeks.
Half-Sour Cucumber Pickles
Makes 1 quart
Ingredients:
3 cups distilled or filtered water
3 tablespoons pickling salt
1½ pounds unwaxed organic cucumbers, small to medium size, preferably freshly harvested
1 head fresh dill or 1 tablespoon dill seed
1 to 3 cloves garlic, peeled (optional)
1 to 3 small red hot chili peppers (optional)
½ teaspoon black peppercorns (optional)
Directions:
Sterilize a one-quart glass jar by boiling for 10 minutes.
In a medium (3-quart) saucepan over high heat, bring distilled water to a boil. Add salt and stir until dissolved. Turn off heat and let brine cool to room temperature.
Wash cucumbers well. If possible, leave 1⁄4 inch of stem attached, but trim and discard a thin slice, about 1⁄16-inch from blossom end. Set prepared cucumbers aside in a clean bowl.
Place dill, garlic, and any optional seasonings in the sterilized jar. Add prepared cucumbers, packing tightly without crushing or bruising.
Pour cooled brine over cucumbers up to the rim of the jar. If needed, hold cucumbers under brine using a piece of wooden bamboo skewer. If brine doesn't completely cover the cucumbers, prepare more brine, using 2¼ teaspoons salt for each cup of boiling water.
Cover the jar loosely with a lid or piece of cheesecloth secured with a rubber band and place on a plate (to catch fermenting brine). Set aside in a cool place (64°F to 72°F).
After 3 days, cut a small slice from one cucumber and taste. If you are satisfied with the texture and flavor, cover the jar and refrigerate. If not, allowed to ferment further at room temperature, usually no more than 5 days.
Cover and refrigerate half-fermented pickles up to 1 month.
Tips for enjoying fermented pickles
If the liquid becomes cloudy, this is normal and not a cause for concern.
If the liquid develops a thin white film on the surface, remove it—it's not harmful but can spoil the jar if not removed.
If the pickles develop any sort of fuzzy mold, discard the remaining contents—this shouldn't happen if the pickles were initially refrigerated after no more than 5 days and kept in the refrigerator.
A common mistake is to place the pickle jar on the dinner table for an hour or so every night. Over time, pickles can spoil if repeatedly brought to room temperature. If you want to serve pickles, place a few on a plate for the dinner table. After the meal, do not return these pickles to the jar, wrap and store separately and use first next time.
Half-sour pickles are satisfying in every way: quick and easy to make, pretty to look at, and supremely crunchy, with a light, crisp, not-very-sour flavor that's similar to fresh cucumbers.
For information about fermenting other foods and seven other methods for preserving all kinds of meat, fish, and produce, get the book The Home Preserving Bible by Carole Cancler. Shop for some of our favorite food preservation tools and equipment on the Amazon marketplace.