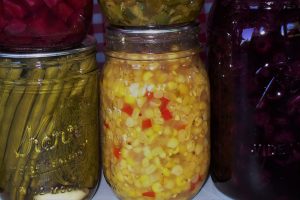 This sweet-and-sour salad is one of my favorite pantry staples. It can garnish smoked salmon and crackers, quickly season a cabbage salad, accent bean soups or burgers, and accompany grilled or roasted meats. A row of this sunny yellow relish in your pantry brightens dark days throughout the year and brings the sweet scent of summer to winter meals.
For more information about these and other food preservation methods with recipes for all types of foods, buy the book The Home Preserving Bible by Carole Cancler.
Canned Pickled Corn Salad
Makes 7 pints
Ingredients:
4 cups diced red or green bell peppers, stemmed and seeded (5 to 8 medium)
2 cups diced celery (6 medium ribs)
1 cup diced onion (1 to 2 medium)
1 qt. white vinegar (5%)
11⁄3 cups granulated sugar
2 TB. canning or pickling salt
2 tsp. mustard seeds
2 TB. dry mustard
1 tsp. ground turmeric
8 cups fresh corn kernels* (10 to 16 medium-size ears), or 5 (10-oz.) pkg. frozen corn, thawed completely
Directions:
Prepare boiling water-bath canner, pint jars, and lids. (If you are new to canning, read How to get started with the canning preservation method.)
In a large stockpot, combine peppers, celery, onion, vinegar, sugar, salt, mustard seeds, dry mustard, and turmeric. Bring to a boil over high heat. Reduce heat to medium-low and simmer 5 minutes, stirring occasionally.
Add corn to simmering mixture, return to a simmer, and cook an additional 5 minutes. Turn heat to medium low, but keep mixture hot while filling jars.
Ladle hot product into hot jars, adjusting headspace to ½-inch. Remove air, wipe jar rim clean of any canning liquid, and secure the lid and screw band on the jar.
Process pint jars in a boiling water bath for 15 minutes.
Cool completely, test the seal, label, and store jars. Use within one year for best flavor.
How to prepare fresh corn
Remove husks and silk from ears of fresh corn. Scrub gently with a vegetable brush to remove all fibers.
In canning recipes, blanch the corn to deactivate enzymes as quickly as possible. To blanch, steam ears over boiling water for 7 to 9 minutes. Alternatively, cover ears with water, bring to a boil, turn off heat, cover and let stand 15-20 minutes.
Cut whole kernels from the cob. Tip: Stand an ear on end in the center of a Bundt or other tubed cake pan and slice down the side with a chef's knife. The kernels will fall neatly into the pan.
Shop for cooking tools and equipment on the Amazon marketplace. You can quickly find what you need to prepare and preserve any type of food. Then simply order and pay using your safe and secure Amazon account.