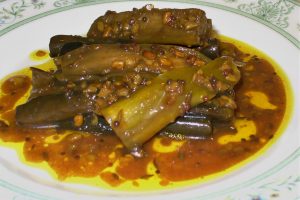 This grilled and pickled eggplant is spicy and well flavored with ginger, garlic, and spices typically used in Indian cooking: cumin, mustard, fenugreek, and turmeric. I find the flavors quite addicting. This eggplant pickle makes a delicious accompaniment to chicken or lamb dishes, or alongside a vegetarian meal of grains and vegetables. If you have no eggplant, use any firm zucchini or summer squash with equally pleasing results. For more pickling recipes, plus seven other food preservation methods for all types of foods, including over 300 delicious recipes, get the book The Home Preserving Bible by Carole Cancler.
Indian-style pickled eggplant
Makes about 3 to 4 cups pickled vegetables
Ingredients:
2 pounds slender eggplant, zucchini, or summer squash (1 to 2 inches in diameter)
2 tablespoons kosher or sea salt
¼ cup olive oil, divided
1 tablespoon cumin seed
1 tablespoon black or yellow mustard seed
1 teaspoon fenugreek seed
1 teaspoon ground turmeric
½ teaspoon ground cayenne pepper, or to taste
½ cup cider, cane, palm, or malt vinegar
2 tablespoons raw or jaggery sugar (muscovado, demerara, panela, or dark brown sugar may be substituted), or to taste
1 tablespoons minced garlic (about 3 medium cloves)
1 tablespoon peeled and minced fresh gingerroot (about a 1-inch piece)
Additional salt and freshly ground black pepper, to taste
Directions:
Trim the stem and blossom end from the eggplants. Cut across each eggplant at 3-inch intervals. Then cut each piece lengthwise into quarters.
In a large mixing bowl, toss eggplant with the salt and let stand for 15 to 20 minutes. Pat eggplant dry with paper or cloth towels and then toss with 2 tablespoons olive oil.
Heat a grill or skillet on medium-high heat and cook the eggplant quarters 2 to 3 minutes on each side, or until nicely marked. Set grilled vegetables aside in a large bowl and let cool to room temperature.
Heat a small iron or other unlined skillet over high heat until very hot. Remove pan from heat and add the cumin, mustard, and fenugreek seeds. Toss seeds for 1 to 2 minutes, or just until fragrant. Transfer toasted spices to a grinder or mortar, add the turmeric and cayenne, and grind everything to a fine powder.
In a small bowl whisk together the vinegar, sugar, garlic, ginger root, the ground spices from the previous step, and remaining 2 tablespoons olive oil. Taste and season as desired with additional cayenne, sugar, salt, or black pepper. Pour dressing over grilled and cooled eggplant and toss until evenly coated. Transfer to a serving dish, or cover and refrigerate up to 1 week—though it would never last that long at our house.
Shop for some of our pickling and other food preservation cooking tools and equipment on the Amazon marketplace. Find everything you need to get started with canning, drying, fermenting, pickling, curing, freezing, or sealing foods. Then simply order and pay using your safe and secure Amazon account.