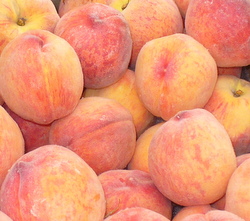 A rumtopf is a German tradition that layers fruit with rum and sugar. The traditional recipe uses a mixture of fruit, beginning with berries and cherries in spring or early summer and ending with stone fruits like peaches and apricots in early fall. Left to marinate until December, the rumtopf is consumed during the Christmas and New Year holidays. This recipe employs the same concept, using only peaches layered with brandy. Classic rumtopf recipes specify equal parts of fruit and sugar, sometimes by volume and sometimes by weight. For example  1 cup of fruit and 1 cup of sugar, or 1 pound of fruit and 1 pound (2 cups) of sugar; but many cooks use half of this amount so that the fruits and liqueur can be used in a variety of ways, both savory and sweet.
Brandied Peaches (rumtopf)
Makes 1 quart
Ingredients:
1 to 2 pounds (3 to 6 medium), ripe but firm peaches, or enough slices to fill quart jar
2 to 4 cups granulated white or brown sugar
2 cups 80 proof brandy, or as needed
Directions:
Wash, peel, and pit peaches. Crack 2 pits with a hammer and remove kernels* (optional—the kernels add an almond flavor). Cut peach halves into ½-inch wedges or chunks.
In a large bowl, toss the peach slices or chunks with sugar until evenly coated.
Place peach kernels in a sterilized 1 quart glass jar. Fill with sugared peaches.
Pour brandy over peaches to cover by at least ½ inch, or to the very top of the jar. You want to keep the fruit submerged in the brandy at all times; if necessary weight the fruit to keep it submerged.
Place jar in a cool location (45-65°F) for 4 days or up to 4 weeks, and then refrigerate or keep in a cold cellar (40-50°F) up to 6 months.
*Pits and seeds of many common fruits contain cyanide-releasing chemicals. These include kernels inside the pits of stone fruits like apricots, cherries, peaches, and plums, and the seeds of apples and pears. Avoid crushing or chewing the kernels or seeds from these fruits to prevent accidental cyanide poisoning. Parents should teach their children not to eat fruit pits, kernels, and seeds.
Use both the peach-infused fruit and the peach liqueur. Here are some ways to enjoy brandied peaches:
Enjoy the peach liqueur at room temperature or on the rocks.
Prepare a refreshing cocktail by adding 1 slice of peach and 1 ounce liqueur to a flute, and topping with champagne.
Add the fruit during the last 30 minutes of a roast pork or chicken. Make a delicious pan sauce; deglaze the pan with some of the liqueur, add chicken stock, and simmer 10 minutes. Add butter, a pinch of thyme, and season to taste with salt and pepper.
Spoon the peaches over short cake, pound cake, or cheesecake; or use them instead of pineapple and bake an upside-down cake.
Warm the peaches and brandy with a pat of butter and a sprinkling of cinnamon, and serve with whipped cream or ice cream.
Variations: Choose any mix of fruits from the list below. Spices may also be added, such as cinnamon sticks, whole cloves, allspice berries, star anise, or vanilla beans.
Best fruits for rumtopf and how to prepare them:
Apricots (halves, pitted)
Cherries (any variety, stemmed and pitted)
Gooseberries (remove stems)
Grapes (sweet seedless red or green grapes are ideal, pierce once with a small knife or fork)
Nectarines (halves, pitted)
Peaches (remove pits and cut in halves, quarters, or slices)
Pears (cored, peeled & sliced)
Pineapple (remove rind & core and cut in large cubes)
Plums (remove seed and half or quarter)
Red currants (removed from stem)
Fruits that are less than ideal, but can certainly be used:
Blackberries, black currants, and blueberries (can discolor and turn the mixture bitter)
Citrus, remove peel and membrane if used (can make the mixture sour or bitter)
Raspberries (become soft and lose their color)
Strawberries (become soft and lose their color)
Fruits that are not recommended:
Apples (texture becomes grainy or mushy or otherwise unacceptable)
Bananas (have too soft a texture and become mushy)
Melon chunks (can make the mixture too watery)
Rhubarb (can make the mixture sour)
For more food preservation methods, including over 300 delicious recipes like this one, get the book The Home Preserving Bible by Carole Cancler, available from booksellers everywhere.