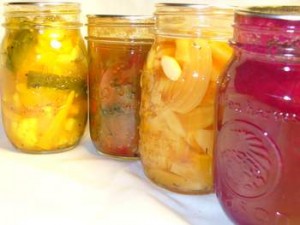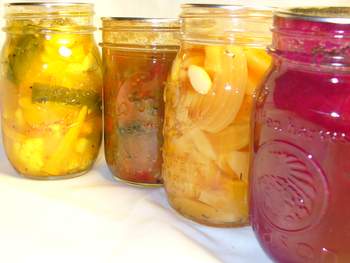 Clostridium botulinum is a common, everyday bacterium found in soil and on food. Only under certain conditions does it become harmful. In the absence of air, such as in canned foods, C. botulinum may produce botulin, the toxin that causes botulism poisoning.
Historical perspective on botulism poisoning
A century ago, botulism poisoning was a problem in improperly processed foods canned at home. After research agencies determined the correct methods (jar size, headspace, time and temperature) to can foods safely, the problem disappeared. Today, rare cases of food botulism occur when incorrect canning procedures and untested recipes are used. It is relatively easy to make sure that Clostridium bacteria remain harmless.
Botulism is a rare, but serious illness. If untreated, the disease can lead to respiratory failure, paralysis, and even death. Symptoms include drooping eyelids, slurred speech, double or blurred vision, difficulty swallowing, dry mouth, and muscle weakness. If you suspect you have food poisoning, see your doctor immediately for treatment.
Tips for safe home canning
One way to avoid the issue of botulism in home canned foods is to process only foods that are high in acid. C. botulinum is inactive in high-acid environments. This includes canned fruits and fruits products like applesauce and fruit jam, and vegetable products with added acid, such as when making pickles, relish, and canned tomatoes.
For low-acid foods, such as plain vegetables (including tomatoes without added acid) and meat, or products that combine these foods such as in soup, you need to destroy C. botulinum by heating the food to 240°F, using a pressure canner. The primary sources of food-borne botulism poisoning in recent decades are untested recipes and inadequate processing.
When you are doing home canning, be sure to use tested recipes. Tested recipes give the necessary information to can foods safely and guard against botulism.
Be sure to adjust the processing time if you live and can above an elevation of 1,000 feet.
Follow all procedures accurately. Never take shortcuts.
You also need to practice other normal safety measures in the kitchen. Make sure that you sanitize the work area, use clean equipment, and wash produce thoroughly.
Finally, before opening and consuming canned food, critically examine canned products for spoilage. As an added precaution, you can boil all home canned vegetables and meats (without tasting) for 10 minutes (plus 1 minute per 1,000 feet above sea level). Boil home canned spinach and corn 20 minutes before tasting. If the toxin is present, it can be destroyed by adequate boiling.
You may also like:
For information about eight different food preservation methods, including over 300 delicious recipes, get the book The Home Preserving Bible by Carole Cancler, available from booksellers everywhere.